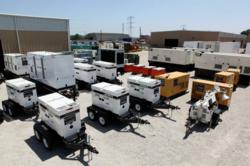 We'll do whatever it takes to provide temporary power relief for Hurricane Sandy
Houston, Texas (PRWEB) October 27, 2012
Worldwide Power Products announced in a statement this morning that it is prepared for and has available portable generators to help the East Coast of the United States with emergency power relief due to Hurricane Sandy.
Jeanette Stratman, Rental Manager of the global power provider, says the company has a total of over 50 megawatts of large portable Cummins, Kohler and Caterpillar generators available for rent and ready for shipment to the East Coast. She added we would "do whatever it takes" to provide temporary power relief to that power starved region. "We have alerted the appropriate authorities and will ship our generators for rent as rapidly as possible when required," she adds.
States up and down the coastline are declaring a state of emergency after Hurricane Sandy wreacked havoc on the Caribean islands network leaving many dead and most without power. Worldwide Power Products encourages all government and business leaders to be prepared for extended power outages.
About Worldwide Power Products
Recognized by Forbes Magazine in 2011 as one of America's 100 most promising companies and by Inc. in 2012 as one of America's Fastest Growing Private Companies, Worldwide Power Products specializes in power generation equipment including new and used engines and generator sets, including portable generators. As an independent company based in Houston, Texas, the company buys, sells and rents new and used generator sets and engines worldwide. In addition, the firm provides rental services for job sites in Texas, Louisiana and the Gulf of Mexico, and offers a standby generator program nationwide. Generator sets range in size from 20kW - 2500kW and engines range in size from 150hp - 4000hp. Brand specialties include Caterpillar generator sets and engines and Cummins generator sets.
For more information and a complete list of inventory, visit: http://www.wpowerproducts.com.