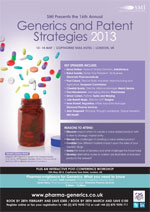 Harvest Moon Pharmaceuticals "Getting better every year"
London, UK (PRWEB UK) 3 April 2013
The conference comes at a perfect time and will address the hottest topics and key challenges faced within the Generics industry today.
With Justices looking to make a decision later this year on whether it should stop pharmaceutical corporations from paying generic drug competitors to delay releasing cheaper versions of brand-name drugs, updates on Generic and Patent Strategies have never been more vital.
Presentations and panel discussions hosted by some of the key opinion leaders within the field of generics will provide delegates with the opportunity to address the challenges faced both today and tomorrow. This year's event tackles some of the regulatory challenges experienced when entering new markets. It will explore how to overcome some of the IP issues faced when challenging patents and takes a detailed look at the pricing pressures surrounding an already saturated marketplace.
Attendees of this event will:

Learn different strategies involved in regulatory affairs and how these can work to your advantage in Europe
Discuss how Originator companies are protecting their compounds and how you can strategically navigate around these issues
Identify ways to obtain a foothold in the Marketplace over your competitors: are value added Generics or Biosimilars the answer?
Discover how Patent litigation can work to your advantage when launching a first to market Generic
Determine the impacts of "Big Pharma" launching Generics into the Marketplace and what this means for smaller Generics companies
SMi's previous 15 installments in the Generics series received positive reviews from within the industry. Attendee feedback included Harvest Moon Pharmaceuticals "Getting better every year", Sandoz "Overall, great meeting with expert speakers" and IMS Health ''Outstanding''
For further information on the conference visit http://www.smi-online.co.uk/goto/pharma-generics39.asp
Alternatively contact Jonathan Collins on tel: +44 (0) 20 7827 6734 or email: jcollins(at)smi-online(dot)co.uk