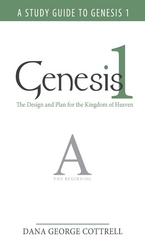 If one were to look at the seven days of creation in a figurative or allegorical sense, perhaps a hidden message would show the outline for the kingdom of heaven
Tucson, Ariz. (Vocus) October 21, 2010
In his provocative new nonfiction book, Genesis 1 – The Design and Plan for the Kingdom of Heaven (published by WestBow Press), author and theologian Dana George Cottrell offers readers a refreshing new perspective on the creation narrative of Genesis I, reinterpreting the events of the seven days of creation through the lens of allegory to reveal what he believes to be the outline for the kingdom of heaven.
Based on exegetical theology, Genesis 1 – The Design and Plan for the Kingdom of Heaven presents a unique, theologically sound interpretation of each of the seven days of creation. Cottrell combined divine revelation, his own insights, individual research, sermons and classroom instruction to create a cohesive argument for the creation narrative's greater meaning in Christian doctrine. "If one were to look at the seven days of creation in a figurative or allegorical sense, perhaps a hidden message would show the outline for the kingdom of heaven," remarks Cottrell. "After all, it sets the foundation for all of Scripture, and given that the kingdom of heaven is the first major topic of our Lord's teaching in the New Testament, it could very well be the Alpha, or the beginning of His kingdom."
Divided into seven sections, Cottrell systematically examines each of the seven days within Genesis I and reveals the layered, complex symbols and figurative prose that can be interpreted to show a direct relationship to the kingdom of heaven. Specifically, Cottrell demonstrates how the first five days of creation relate to the design and plan for the kingdom of heaven, how the sixth day refers to the implementation of the kingdom, and how the seventh day reveals the handing of the kingdom to the Father.
Ideal for the theologian and the layperson alike, Genesis 1 – The Design and Plan for the Kingdom of Heaven illuminates a well-worn topic of Christian debate in a compelling new way.
About the Author: Dana George Cottrell was born in New Brunswick, Canada and was raised in northern Maine. He graduated from the University of Maine with a bachelor's degree in electrical engineering and he holds a master's degree in biblical studies.
About WestBow Press
WestBow Press is a strategic self-publishing alliance of Thomas Nelson, the world's premier Christian publisher, and Author Solutions, Inc. (ASI) - the world leader in the fastest-growing segment of publishing. Through this partnership, authors benefit from the rich publishing heritage of Thomas Nelson and the speed-to-market advantages of the ASI self-publishing model. Titles published through WestBow Press will be evaluated for sales potential and considered for publication under the Thomas Nelson imprint. For more information, visit http://www.westbowpress.com.
###