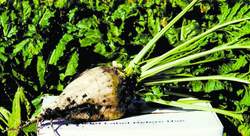 Stoller's Ripener and Sugar Mover offer an economical way to increase yields at a low cost.
Provo, Utah (PRWEB) June 9, 2010
Impressive yields from sugarbeet field trials at Brigham Young University are attributed to yield enhancing products from StollerUSA. Research data credits StollerUSA products Ripener™, also marketed as PHOS-MOLY, and Sugar Mover™ for high yields-experienced in 2005-2009 field trials.
Dr. Bryan Hopkins, Associate Professor at Brigham Young University, found the results from the field trials year after year to have significant implications for growers. Hopkins wanted to aid growers in not only selecting products focused on producing higher yields, but also sustaining correct levels of sugar percentage and nitrate concentration.
"Sugarbeet growers are constantly looking for new technologies to increase their bottom line by producing crops with a high sugar concentration and a low nitrate concentration," says Hopkins. "Stoller's Ripener and Sugar Mover offer an economical way to increase yields at a low cost."
Focusing on various applications, sugarbeet plants treated with Ripener showed an average total yield increase of 1850 pounds per acre. Ripener increases natural ripening. Premature ripening due to other treatments can have undesirable effects on plant quality.
Another popular Stoller product, Sugar Mover, improved yields further when applied with Ripener. Hopkins applied both products at 2 quarts per acre and the results were significant. The average total yield increase was 2710 pounds per acre over the five year period when both products were applied.
Sugar Mover promotes higher yields with more uniform fruit and root size and quality. The formulation effectively and efficiently increases the flow of sugars out of leaves and into fruit, seed, and roots by converting nitrate nitrogen into the usable sugars needed for outstanding fruit production.
StollerUSA is dedicated to helping producers enhance yields by maximizing genetic expression. The result is in enhanced marketable yield, improved return-on-investment and resistance to insects, nematodes and disease. Stoller products are proven to ensure optimum plant growth by maintaining appropriate hormone balance in combination with supporting nutrients, resulting in healthier, more productive crops that are better able to withstand stress and achieve their full genetic potential.
About StollerUSA
In agribusiness for more than 40 years, StollerUSA markets a full line of products to help farmers increase crop yield and quality. StollerUSA, headquartered in Houston, is actively engaged in basic and practical research to enhance crop productivity in more than 50 countries.
###