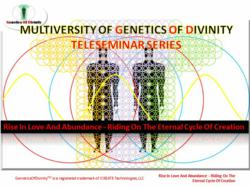 In order to solve a problem one must rise to higher ground above the problem. The Cycle Of Creation is that higher ground, when followed, it is designed to guide you to your logical and ethically feasible desires infalliably. Your crowning glory is NOW!
Carlsbad, CA (PRWEB) January 20, 2013
ICREATE Technologies, LLC, ushering in the new era of global human consciousness, announced a unique 4-part Teleseminar series focused on personal empowerment and social transformation, titled "Rise In Love And Abundance - Riding On The Eternal Cycle Of Creation". Presented by Joy Ghosh, author of the book Oh My Genetics Of Divinity, that was officially launched on December 21, 2012 and instructor at the Multiversity of Genetics Of Divinity, the Teleseminar series kicks off with the first session at 5:00 pm Pacific Standard Time on Saturday, February 23, 2013, followed by sessions on each 3 Saturdays at the same time thereafter. The Teleseminar series which is part of ICREATE Technologies' Global Empowerment and Transformation program will be accessible to all registered students in the Multiversity of Genetics Of Divinity, at no charge. Registration to the Multiversity which enables access to this Teleseminar unique and powerful Teleseminar series is now open online at the above website..
As the enigma of effectiveness or lack thereof of tall promises from the heavily touted Law of Attraction, continues to disappoint and disrupt human belief systems globally, the quality of human life continues to degrade as evident from any news being reported by the media today. The Law of Attraction is at the trailing edge of the Cycle of Creation and is rendered impotent and hence ineffective to fulfill human desires, if the preceding steps in the Cycle are not completed.
Through this 4-part Teleseminar series, Joy Ghosh, who describes the Laws of Creation and addresses the distraction of the Law of Attraction, will assist Teleseminar attendees to:
** Understand the Cycle Of Creation
** Understand the TRUE Law of Attraction and why it is not working for most people
** Learn never before revealed information about the purpose and function of the 6 pairs of Human DNA and their role to define the life experience
** Learn about brainwaves and their role to define human life experience
** Learn how to cleanse out physical and neuro-toxins to re-charge the DNA
** Learn about Parallel Universes and how to define a life experience in them
** Set specific targets of desire and how to leverage the Cycle of Creation to manifest those desires in the life experience. Attendees will set specific believable and achievable financial targets or targets of equivalent value and learn how to manifest them in tele-workshops
** Learn how to make the process of manifestation of logical and ethically feasible desires consistently repeatable
"Humanity is on the verge of a global transformation in 2013 and beyond as more and more people become more consciously aware that we are here to live delightful lives filled with love, harmony, health, peace and abundance through the establishment of symbiotic collaborative relationships through the free will of mutual consent for the purpose of collective co-existence. Once the paradigm of artificial scarcity and the obsession for violation of others' free will is ruptured, we will be able to restore our natural state of delight and fulfillment and reclaim our status as the most endowed and intelligent species in this planet. This Teleseminar series will educate, empower and help all attendees learn 'how to fish' for themselves like they have never been before," said Joy Ghosh, founder of ICREATE Technologies, who will be speaking at the Teleseminar sessions.
All registered participants will receive relevant handouts to use during the sessions prior to the first session.
ICREATE Technologies' transformational education program at Level 1 is and will always remain free for all registered students in the Multiversity of Genetics Of Divinity and contains increasing hours of videos, audios, valuable documents, teleseminars, charts and effective exercises for students along with unlimited direct interactions with Multiversity coaches. For more information about this program, visit the registration page.
About ICREATE Technologies, LLC
ICREATE Technologies, LLC has been created to fill the void in the Human Consciousness Domain with the mission of empowering the common person with the knowledge that they are designed to enjoy a delightful life experience of love, peace, harmony, health and abundance through the respect of free will of others for the purpose of collective coexistence. The core objective is to provide a logical and scientifically sound platform for the common person to understand the Laws of Creation and Existence and how to apply them consistently for a delightful life experience. For more details about ICREATE Technologies, the Genetics Of Divinity, visit online at http://www.geneticsofdivinity.com. Follow the Genetics Of Divinity revolution at http://facebook.com/geneticsofdivinity or at http://twitter.com/divinegenes or call 760-670-3320.