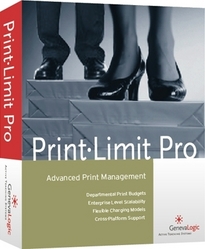 With this new release of Print-Limit Pro, schools, colleges and universities will have easier tools for keeping printing costs under control
Portland, Ore., & Langenthal, Switzerland (PRWEB) February 19, 2008
GenevaLogic today launched a new version of its award-winning print management software, Print-Limit Pro. With the debut of Print-Limit Pro 8.0, schools, colleges and universities will find it even easier to save printing costs and the environment. This new release includes features that enhance group management, expand administrative functions and report options, and support Mac OSX 10.5.
A typical school with 1,000 students spends nearly $20,000 annually on printer paper, toner and maintenance. With Print-Limit Pro, educators can conserve resources and save money by easily and efficiently managing printing across large, multi-platform environments.
"With this new release of Print-Limit Pro, schools, colleges and universities will have easier tools for keeping printing costs under control," said Kirk Greiner, chief executive officer, GenevaLogic. "Schools that are using Print-Limit Pro tell us that by encouraging students, staff and faculty to think before they print, they are lowering their printing expenses by as much as 70 percent."
Print-Limit Pro 8.0 allows network administrators to more easily manage groups of users, allowing them to better monitor and control printing and copying expenses by individual classrooms, offices or departments. The software's new reports will provide system administrators with detailed listings and summaries of transaction types and amounts.
New controls for pre-paid printing cards will allow administrators to automatically import and update user information from fields in Active Director or LDAP. With this upgrade, the print management software also now fully supports Mac OSC 10.5, Veritas Cluster Server (VCS) and Microsoft Clustering services.
Print-Limit Pro's unique features allow schools, colleges and universities the ability to print when needed, while managing resources, recovering printing expenses and dramatically reducing paper and toner budgets. The print management software provides users with a personal environmental impact statement, designed to help them think before they hit "print." The environmental impact statement displays the number of trees consumed, the carbon dioxide output from the printer and how much energy has been used.
Easily scalable to networks serving more than 20,000 users, Print-Limit Pro features an intuitive Web interface, advanced budgeting and reporting tools, and supports all major operating systems.
Existing Print-Limit Pro customers with active annual support and upgrade protection packages can download a free update at http://www.GenevaLogic.com. A free 30-day trial of Print-Limit Pro 8.0 can be downloaded at http://www.GenevaLogic.com. For K-12 schools, an unlimited site license for Print-Limit Pro starts at $1,495. Higher education server licenses for Print-Limit Pro start at $1,995.
About GenevaLogic
GenevaLogic has one passion: enabling educators to manage, control and optimize the use of technology to support teaching and learning. Founded in 1996, with headquarters in Langenthal, Switzerland, and Portland, Ore., the privately held company is an international leader in active teaching systems whose Vision classroom management software is used in more than 50,000 classrooms worldwide. The company's award-winning education software solutions - Vision®, App-Control™, Surf-Lock™, Pointer™, Plan-It™, Protect-On™, Print-Limit and Print-Limit Pro - allow schools, universities and training centers to get more learning value from their technology investments. For more information, visit http://www.GenevaLogic.com.
###