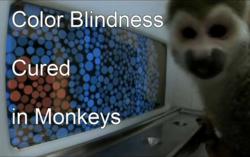 The new test is a game-changer...
Albuquerque, New Mexico (PRWEB) September 28, 2011
Genevolve Vision Diagnostics Inc. has developed a non-invasive molecular diagnostic for all major forms of congenital color blindness to be used by ophthalmologists and optometrists. It is the first totally objective color vision test that can consistently separate colorblind individuals from those with normal color vision and accurately classify color vision deficiencies. As such, it offers a solution to the problem of setting uniform standards in the workplace. And, for the first time accurate testing of children as young as 6 months of age will be possible. "The new test is a game-changer as it is a revolutionary improvement in color vision testing which had not changed in the last 60 plus years," said Genevolve president Matt Lemelin. The genetic test, and much of what is known about color vision itself, represents decades of research by the husband and wife team of Jay and Maureen Neitz, PhD., who are both professors of Ophthalmology, and Biological Structure at the University of Washington.
They worked out the molecular genetic basis for why there are large individual differences in the severity of colorblindness among people with the defect. It is one of the first examples of a defect of the nervous system where examination of a person's DNA can predict not only the occurrence but also the severity of a defect. The team of researchers has also developed a treatment for the disorder using a gene therapy procedure proven effective in monkeys and featured in the publications, Nature and National Geographic. The discovery was named by Time magazine as one of the top 10 scientific discoveries of the year.
The test, marketed under the Eyedox™ brand, involves using a non-invasive buccal epithelial cell collector to pick up skin cells sloughed daily from the lining of the mouth. The DNA goes to a CLIA certified laboratory where the color genes, which are expressed in the eye but are present in all cells, are specifically analyzed to give both a precise identification and an accurate classification of any inherited color vision deficiency along with a treatment plan and family history which provides information about the inheritance of the disorder.
"This is a major breakthrough because scientists strive to understand the genetic basis of human disease, it is often more important to forecast the severity of the impairment than to merely reveal the presence of a genetic defect," said Dr. Jay Neitz.
About color vision
Congenital or inherited colorblindness affects the photoreceptors that absorb light in the red-green visual spectrum. Color vision deficiency is the most common genetic disorder in humans. The disorder is most often inherited as the result of mutations on the X chromosome and therefore is predominantly present in the male population. It has been estimated that 1 out of 8 males and 1 out of 200 females possess some form of inherited color vision deficiency. Studies indicate there are 13.5 million color vision deficients in the United States and more than 200 million worldwide. Studies show that current testing methods are unreliable, classifying some people with normal color vision as being colorblind, especially young children, and some people, even with severe color vision defects, as being normal. There have been aviation accidents and railway disasters attributed to color vision deficiency increasing the need for more objective color vision testing methods and accurate standards.
About Genevolve Vision Diagnostics
Genevolve Vision Diagnostics, Inc. is a life sciences company which researches, designs and commercializes non-invasive molecular diagnostic assays and treatments for clinical applications for the color vision industry. The company operates in two segments; external agreements and internally held intellectual property. The external agreements section offers partnering options for technology companies and innovators within the color vision industry and provides a commercialization vehicle including product development, distribution options, marketing services and other business services on a contractual basis. The internally held IP segment researches, licenses, develops and commercializes novel molecular diagnostics and treatments for color vision deficiencies. The company was founded in 2009 and is based in Albuquerque, New Mexico.
###