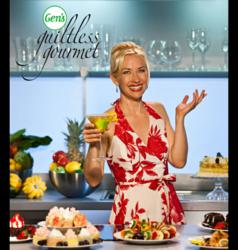 "During this festive season, people often load up on indulgences without a second thought. I want to show people that being conscious of heart health doesn't mean you have to miss out on your holiday favorites."
Los Angeles, California (PRWEB) December 17, 2011
Healthy Food Expert Chef Gen Anderson offers up some delicious recipe tips for a Heart-Healthy Holiday Season.
Gen Anderson, producer and dynamic host of Gen's Guiltless Gourmet, a unique healthy and eco-conscious cooking show that airs on ION Life, is encouraging her viewers to go heart-healthy this holiday season. With her enthusiastic style, she is determined to show them that heart healthy doesn't have to mean bland and dull meals.
Heart disease and high cholesterol are health issues that affect millions of people. According to the Center for Disease Control and Prevention, 1 in 6 adults in the United States have high cholesterol, and the average cholesterol level among all adult Americans is "borderline high risk."
"We think of heart disease as something that affects us later in life," explained Chef Gen. "But the rate of heart disease amongst people 25 to 45 is significant. That's something we can change with the right foods."
Chef Gen's philosophy on Gen's Guiltless Gourmet is to use "clever ingredient substitutions and creative cooking methods" to make decadent, gourmet recipes healthier and more eco-friendly. This holiday season, she's turning her attention to making typically fat- and cholesterol-laden holiday recipes more heart healthy, but equally delicious.
Chef Gen offers some easy solutions:

Using Earth-Balance for Baking instead of butter will take the cholesterol out of your Christmas cookies. Another option is to cut the butter in the cookie recipe in half and use half fat-free cream cheese.
Use fat-free sour cream or soy sour cream and a little non-hydrogenated vegetable margarine in your mashed potatoes to keep them rich and creamy with a lot less fat.
Try a non-dairy eggnog brand or make your own from almond milk and Egg-Beaters and you will avoid the cholesterol.
"During this festive season, people often load up on indulgences without a second thought. I want to show people that being conscious of heart health doesn't mean you have to miss out on your holiday favorites."
For healthy holiday tips, recipes and a clip of Chef Gen's TV Show, visit http://www.gensguiltlessgourmet.com
###