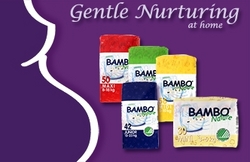 Awarded the Nordic EcoLabel Swan, The Official Environmental Labeling in Scandinavia: Using Environmentally Friendly State-of-the-Art Raw Materials, Bambo Nature Diapers are Chlorine-Free, Perfume-Free, Have No Optical Brighteners, and are Biodegradable.
Sherman Oaks, CA (PRWEB) February 1, 2010
Bambo Nature® disposable baby diapers, manufactured by Abena A/S in Denmark, are finally coming to the United States marketplace. GentleNurturing.com is one of a select number of vendors chosen by U.S. distributor KCK Industries to carry the Bambo Nature® product line.
Awarded the Nordic EcoLabel Swan, Bambo Nature® diapers are manufactured according to strict criteria that meet high environmental and health standards far above levels set here in the United States.
Ordinary paper diapers, even those made in the U.S. that claim to be eco-friendly, are only 35% biodegradable. The absorbent core of a Bambo Nature® diaper has a cornstarch Super-Absorbent Polymer (SAP), which is 100% biodegradable. The biodegradable pulp used is harvested from sustainable Scandinavian forests where, according to one Abena press clip, "more trees are planted than felled."
Some of the exacting requirements imposed by the Nordic EcoLabel Swan on Bambo Nature® diapers include:

No optical brighteners are allowed.
A maximum amount of waste material created during the process is imposed. For example, production waste - the quality of waste materials generated during the manufacture and packing of eco-labeled products must not exceed 5% of the end product.
No moisturizing lotion or perfumes are allowed.
The diapers are designed and tested to be certified free from harmful chemicals.
Are 100% chlorine free.
Contain no pvc, latex, TBT or antioxidants.
Come in fully recyclable packaging.
Bambo Nature® uses Totally Chlorine Free (TCF) pulp from paper manufacturer Stora Enso to bleach their diapers. This is an oxygen delignification process in combination with hydrogen peroxide or ozone as the main bleaching agents. Paper made from TCF is made of 100% fresh fibers with no recycled pulp. This gives the diapers a clean, white characteristic, sterilizes the pulp and eliminates taste and odor.
Designed in close partnership with a testing group of parents, Bambo Nature® disposable baby diapers are now available on GentleNurturing.com. Ranging from mini (for premature or small infants) to junior sizes, Bambo Nature® can be purchased from $12.17 to $24.33 for individual packages. Cases are available in all sizes for $73.00 and are shipped free of charge.
About Gentle Nurturing, Inc.
It is the mission of Gentle Nurturing to provide a comprehensive perinatal service, offering individualized, personal support for your pregnancy, postpartum period, breastfeeding needs and more. We offer a full array of education and consultation as well as a network of referrals. These range from medical and technical resources to the more creative needs of welcoming your new baby. Founded by Leslye Adelman, M.S., CCE, IBCLC, with more than twenty-five years of experience as a lactation consultant, childbirth educator, parenting specialist and parent, Gentle Nurturing boasts a staff of highly trained, experienced individuals, available to meet your specific needs.
Media Contact
Leslye Adelman, M.S., IBCLC, CCE
(818) 789-6718
http://www.GentleNurturing.com
###