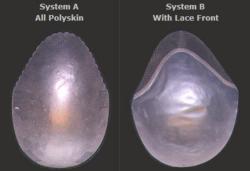 Service has always been courteous, friendly, and prompt. Unit's base and hair are made with top grade materials and the workmanship is excellent.
Miami, FL (PRWEB) December 20, 2012
Announcing the Introduction of New and Innovative Undetectable, all Skin Base Hair Piece System
Gent's Place, finest hair replacement supplier introduces innovative undetectable, all skin base hair piece called "Executive System". The hair piece uses super thin poly circumference reinforced with gauze that ensures a bare feel to the natural scalp. Hair strands are fastened and put together on a polyskin base or foundation. The product is available in three variants - System A – All Polyskin, System B – With Lace Front, or System C – Super thin poly perimeter. With the Executive System, customers are guaranteed a completely concealed hair piece that gives a feel of not actually wearing one!
Executive System does not discolor from perspiration so no matter what the climate conditions the hair piece will not let you down. The very thin and extremely light polyskin base also works wonders for convenience and comfort and does not deteriorate over time. The product ensures that you can brush, comb, or part in any direction and so you can follow all hair styles or fashion.
Made manually, Executive System is crafted to perfection and is available with or without ventilation holes or scalloped front. The lace front system has two options: French lace and fine welded mono Lace. The product is perfect for all hair types and is available in a range of colors such as clear, flesh, black, brown, light reddish brown, yellow and more. It can also be customized to specific hair color.
The quality and price of hair piece products at Gent's Place has ensured a loyal clientele base over the years. "We aim to provide our customers with the highest quality, comfort, and service. We also guarantee our materials and workmanship to be of the best grade. Our growing number of satisfied and repeat customers is a testimony to the quality of our products and our excellent customer service." says, Robert Glen (CEO – Gent's Place)
Confirming this, a satisfied customer, Dr. George, from Tempa Bay, said: "I have been a client of Gent's Place for about 8 years. The following summarizes my experience: Service has always been courteous, friendly, and prompt. Unit's base and hair are made with top grade materials and the workmanship is excellent. Prices are most reasonable around the world while still maintaining quality. I give Gent's Place my best recommendation."
About Gent's Place
Gent's Place is an expert in hair replacement systems, custom hair pieces and hair extensions. Headquartered in Miami, Florida, the company supplies its products through its website. The company specializes in the manufacture and supply of a range of hair products such as hair toupee, wigs and other hair pieces. It also provides a wide variety of base designs which are non-surgical. Aside from a natural look, Gent's Place also guarantees a hair restoration system that gives clients complete value for money.
For more information, you can visit, http://www.gentshair.com or call at 800-690-5140.