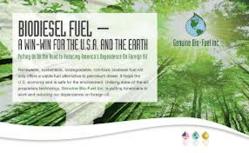 Each organization chosen has a special connection and personal tie to the Genuine Bio-Fuel team.
Indiantown, Florida (PRWEB) November 21, 2012
Genuine Bio-Fuel Inc. (GBF), a leader in biodiesel fuel production, is using this holiday season to highlight the organizations it supports. Each organization chosen has a special connection and personal tie to the Genuine Bio-Fuel team. The GBF team has been deeply touched by organizations focused on cancer prevention, veteran support, environmental and wildlife conservation, youth education and those assisting children with disabilities. Organizations supported by GBF include:

Peggy Adams Animal Rescue
Bow Down Ministries
The Shriners
Easter Seals
VFW
National Wildlife Federation
National Geographic Kids
Save the Chimps
Wounded Warrior Project
St. Jude's Children's Research Hospital
SmileTrain
The National Humane Education Society
ASPCA
Susan G. Komen 3-Day for the Cure®
Toys for Tots
The Special Olympics
The sentiment shared by Longo is not a surprise since family values and community responsibility are at the core of GBF's corporate culture. Executive Vice President Jeff Longo commented, "This company was built with future generations in mind. How can we create a product to help preserve our natural resources for tomorrow and not support the causes that positively affect the people in our communities today."
Longo continued reaffirming, "It is easy to be consumed by the commercialization of the holiday season as decorations adorn houses, retail stores extend shopping hours and radio stations play holiday music non-stop. But it's important to remember the ultimate gift of the season, giving!" Genuine Bio-Fuel strives to be more than just a leader in the biodiesel fuel industry.
Since its inception, GBF has been a staunch supporter of the community. Longo added, "Our support is not limited to just one season." In addition to the organizations it supports, it also operates several programs geared to empowering the community such as its Second Chance Program, which employs and trains former inmates and veterans to work in the alternative energy industry. A vital spirit of giving has been ingrained in the culture of Genuine Bio-Fuel and radiates throughout the company.
More about Genuine Bio-Fuel Inc.: Genuine Bio-Fuel Inc. is a leader in biodiesel production and technology in Florida. Working with local communities since 2008, they collect used vegetable cooking oil, plant oils and fats, refine it and efficiently produce renewable, sustainable clean biodiesel that meets or exceeds the required ASTM standards. An RFS-2 Registered Renewable Fuel Producer, this dedicated environmental steward is 100% privately funded.
For more information on the types of organizations and foundations Genuine Bio-Fuel supports please visit http://www.genuinebiofuel.com/community.html.
For more information on Genuine Bio-Fuel Inc. please contact Jeff Longo by phone toll free 866-268-7885, or via email at gbf(at)genuinebiofuel.com.