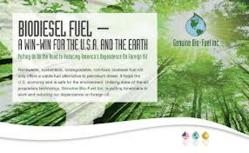 The cost of not acting to preserve our natural resources is far to great.
Indiantown, FL (PRWEB) January 23, 2013
Government support of alternative fuel and sustainable energy is critical for American biodiesel fuel producers, but more importantly our future generations as well. President Barack Obama agreed with this sentiment during his 2013 Inaugural address. While addressing thousands yesterday on Capitol Hill to lay the ground work for his next four years in office, Pres. Obama made a strong commitment to the pursuit of sustainable energy. He declared a failure to respond to the threats of climate change would be a betrayal to future generations.
President Obama continued saying, "The path towards sustainable energy sources will be long and sometimes difficult. But America cannot resist this transition. We must lead it." And he is correct. His support comes as the American Petroleum Institute (API), a national trade organization that represents America's oil and natural gas industry, has fledged a full media and political attack against the biodiesel industry. According to Biofuels Digest during their January 16th media conference API deemed the "Renewable Fuel Standard (RFS) 'unworkable' and stated that they would 'like to see complete repeal of the RFS.'"
The United States Environmental Protections Agency instated the RFS mandate to ensure transportation fuel sold in the United States contains at least a minimum volume of renewable fuel. The elimination of the RFS mandate would also remove the Renewable Identification Numbers (RINs) – which are attached to every gallon of green fuel and add a subsidy market value. Genuine Bio-Fuel Inc. (GBF), Executive Vice President Jeff Longo insists, "Without RINs and the RFS mandate, there is no biodiesel industry."
Longo hopes the President's vocal support will channel into more long-term legislative change to support the growth of the industry. Longo believes, "The cost of not acting to preserve our natural resources is far to great. Policy needs to reflect the importance of biodiesel production as well as production of other alternative energy sources and new technologies."
Longo appreciates the President's candidness and agrees the changes are not going to come easy, but they need to be made. Because in the President's own words, "That's how we will maintain our economic vitality and our national treasure — our forests and waterways, our crop lands and snow-capped peaks. That is how we will preserve our planet, commanded to our care by God."
More about Genuine Bio-Fuel: Genuine Bio-Fuel Inc. is a leader in biodiesel production and technology in Florida. Working with local communities since 2008, they collect used vegetable cooking oil, plant oils and fats, refine it and efficiently produce renewable, sustainable clean biodiesel that meets or exceeds the required ASTM standards. An RFS-2 Registered Renewable Fuel Producer, this dedicated environmental steward is 100% privately funded.
To find out more about Genuine Bio-Fuel's please visit our website http://www.genuinebiofuel.com/.
For questions concerning the restructuring the RFS program or the health of the biodiesel fuel industry please contact Jeff Longo by phone toll free 866-268-7885, or via email at gbf(at)genuinebiofuel(dot)com.