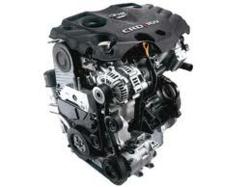 By evaluating, inspecting and warranting all in stock engines this company creates more value.
Sacramento, California (PRWEB) February 13, 2013
Geo vehicles were a collaboration between General Motors and several other top automakers in the world. The discontinuance of the Geo brand has caused a shortage in available motors on the secondary market. The UsedEngines.co company is now selling the Geo Tracker engine at a discount price to dealerships, owners of vehicles and third party installers online. This company has acquired the Geo series to create a low price point for engine installations. Inventory can be searched online at http://www.usedengines.co/geo/geo-tracker-engines.
In a collaboration with Suzuki, GM helped produce the Tracker in the early 1990s. This compact vehicle quickly became an alternative to standard passenger cars in the U.S. The effort to boost fuel economy required a slight reduction in horsepower. The 1.3 edition of the Tracker engine was rated at just below 100 horsepower. The preowned motors that are now in stock include the 2.0 and 2.4 series to create a larger resource to purchase these motors online.
Several brands have been discontinued by General Motors in the past decade. These terminations have created difficulties locating used motors that remain in installation-ready condition. Owners of vehicles have limited options to replace an engine in a used vehicle. One of the ways that the UsedEngines.co company is helping to lower the price of installation is by creating a higher value with every purchase. By evaluating, inspecting and warranting all in stock engines this company creates more value.
The creation of the new warranty program has helped this company provide extra value for car motors sold to the public or the trade industry. Extensions of the OEM warranty are now providing a trusted way for all customers to receive generous protection from breakdown or wear and tear failure. This new warranty was announced late last year in a news release that can be read online at http://www.prweb.com/releases/used-car-engines-sale/chevy-ford-dodge-toyota/prweb9850113.htm.
To help expedite order processing, the online ordering now available from this company has been improved. Quote systems are now in place to make it easier to receive accurate pricing for any size engine currently in the company inventory. These quotes can be received by toll-free number or online using the quote system now installed.
About Used Engines Co.
The Used Engines Co. holds one of the largest and most respected preowned motor inventories in North America. This company offers low prices to companies and individuals currently purchasing these units for replacement inside classic or current vehicles. These innovations and upgrades this company has made since its online launch has expanded its customer reach. The Used Engines Co. has an upgraded warranty policy for all its stock to provide the assurance buyers require locating motors on the Internet. Through regular inventory increases, all makes and models are updated on a weekly basis.