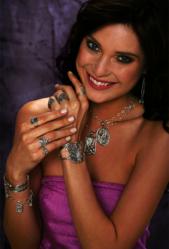 When I considered metalwork techniques to utilize in conjunction with Art Nouveau inspired design, the answer came immediately, repoussé and filigree.
New York, NY (PRWEB) May 17, 2011
One of the most influential art movements and philosophies, which spanned architecture and the applied arts was art nouveau. Embracing the plant-inspired, organic feel of the movement in a contemporary way, GeoArt by Cynthia Gale created Belle Nouveau, a light and refreshing art nouveau inspired jewelry collection just in time for summer. Utilizing repoussé and filigree, bells, butterflies and curving florals create a collection that can simply be classified as stunning.
Says Cynthia of her inspiration for Belle Nouveau, "When I considered metalwork techniques to utilize in conjunction with Art Nouveau inspired design, the answer came immediately, repoussé and filigree. These handwork techniques in sterling silver produce light, sculptural shapes and can be incredibly graceful when designed in combination with one another. I can create statement pieces and bold looks that feature tactile movement, a hallmark of Art Nouveau. The filigree in Belle Nouveau feels like I'm gazing out of my city apartment window on a rainy day... when I stop to analyze the raindrops, exquisite patterning caused by natural forces appears as if in a dream. This same intricate patterning and gentle movement is the essence of Belle Nouveau where delicate art for the discernable jewelry connoisseur is there for the collecting!"
Belle Nouveau features three dominant motifs that are hugged within a drop, oval and rectangle shape. Nine earrings include small dangles with bells, elegant drops in filigree and large statement earrings. The same three motifs are available on pendant necklaces on chain and on black cording, with two alternative statement necklaces featured, one of which is a 36 inch long charm necklace that can work a variety of ways, long, double-wrapped, as a Y Necklace, as a belt or as a multi-wrap bracelet. The three statement bracelets feature a butterfly, bells or charms with the three dominant collection motifs and four rings round out the jewelry with a statement.
Says Olga Gonzalez, Sales and Marketing Manager of GeoArt by Cynthia Gale, regarding the collection, "Belle Nouveau is made to mix without being too 'matchy.' Drops can be worn with a statement necklace and a few fun rings, and I find everything so light I don't even notice my big, fabulous jewelry until someone stops me to comment on how much they love it."
To purchase select styles, visit http://www.geoartnyc.com under the What's Hot section, or call one of the many retail locations which carry GeoArt, as listed on the website. For inquires regarding this release, contact Olga Gonzalez at 888.436.2781.
About Us: GeoArt by Cynthia Gale specializes in artisan-crafted sterling silver jewelry. Her signature collections are licensing partnerships with over fifteen of the nation's top museums and cultural institutions and the GeoArt by Cynthia Gale line has evolved from ideas reflecting the rich cultural diversity of New York City and Cynthia's passion for it. Our philosophy is simple: to create exquisite, quality sterling silver jewelry designs inspired by art and the world around us.
###