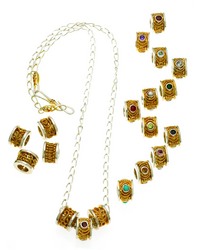 On trend with contrasting colors and metals, the Filigree Lace collection offers an elegant look and a way of making jewelry uniquely focused on you and your loved ones
New York, NY (Vocus) October 5, 2010
GeoArt by Cynthia Gale specializes in art inspired jewelry with meaning. Their newly launched Filigree Lace collection features sterling silver and 14K overlay earrings, bracelets and beads available in twelve birthstones, for the woman who appreciates personalized jewelry.
Says Cynthia Gale, "A visit to my apartment quickly illustrates my fixation with gothic furniture and design. The motif utilized in the Filigree Lace collection features one of my most beloved gothic design motifs- the quatrefoil. This bold shape is miniaturized, feminized and personalized in this elegant birthstone collection. I layer my Filigree Lace cuff bracelets with my son (peridot), husband (blue topaz) and dad's (white pearl) birthstones and carry the three most important men in my life with me throughout the day!"
Utilizing the elegance of filigree, the twisted wire adds a delicate touch. The birthstone beads also feature four spacer options to enhance the colorful birthstones, as well as a beautiful handmade two tone chain. Collect your children, grandchildren or friends on a necklace, stack up the birthstone bangles or reveal your true colors with dangling quatrefoil earrings.
"On trend with contrasting colors and metals, the Filigree Lace collection offers an elegant look and a way of making jewelry uniquely focused on you and your loved ones," says Olga Gonzalez, Sales and Marketing Manager for GeoArt. To purchase from the Filigree Lace collection, visit http://www.geoartnyc.com under the 'What's Hot' section or to locate one of the many retail locations that carry GeoArt by Cynthia Gale or the sales department at 888.436.2781.
About Us: GeoArt by Cynthia Gale specializes in artisan-crafted sterling silver jewelry. Her signature collections are licensing partnerships with over fifteen of the nation's top museums and cultural institutions and the GeoArt by Cynthia Gale line has evolved from ideas reflecting the rich cultural diversity of New York City and Cynthia's passion for it. Our philosophy is simple: to create exquisite, quality sterling silver jewelry designs inspired by art and the world around us.
###