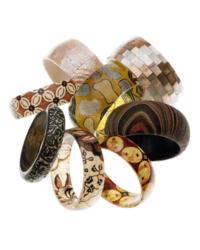 The new GeoArt bangle collections are hot! Batiks are looking better than ever when you stack wide and thin bangles.
New York, NY (Vocus/PRWEB) March 15, 2011
Java Wood compliments an everyday look with a classic and earthy feel, while Perle Bleu's beautiful blue hues add a pop of color to your day. New to the GeoArt bangle collections, Java Wood and Perle Bleu are available in both thin and wide bangle widths, creating dimension and texture to the look of the bangles when featured on the GeoArt display. Says Cynthia Gale of her inspiration for the new collections, "Inspiration for these unique bangle collections is drawn from the raw beauty of the Komodo Islands in Indonesia. In July 2010, my family and I chartered a boat which took us through the natural glory of these magical islands. The crystal blue waters of Komodo, Rinca and Padar are translated in the cool tones of Perle Bleu. Conversely, the extraordinary leather-like skin of the Komodo Dragon itself, as well as the exotic flora and fauna of the islands, speaks to Java Wood."
The Perle Bleu Collection features kebaya lace, batik fabrics made in Indonesia, crushed and mosaic pattern mother of Pearl, and magnificent solids. Perle Bleu boasts vibrant colors that are perfect for the upcoming Spring and Summer seasons. The thin solid blue bangle can be mixed and matched, but also stands alone and doubles up beautifully with batiks with its square shape. Perle Bleu has the essence of summer, ideal whether you are traveling to the beach or styling an outfit for a night on the town. The Java Wood collection is perfect for natural women who are looking for jewelry that never goes out of style. Transition from Summer to Fall with colored sand and carved wood bangles worn with batiks to offer a timeless quality, and don't forget the brown tinted crushed and mosaic pattern mother of pearl! Says Olga Gonzalez, Sales and Marketing Manager for GeoArt, "The new GeoArt bangle collections are hot! Batiks are looking better than ever when you stack wide and thin bangles. Mother of pearl, carved wood, colored sand and solids make your look stand out so much you can't help but check out those sexy wrists."
To purchase select styles, visit http://www.geoartnyc.com, or call one of the many retail locations which carry GeoArt, as listed on the website. For inquires regarding this release, contact Olga Gonzalez at olga(at)geoartnyc(dot)com.
###