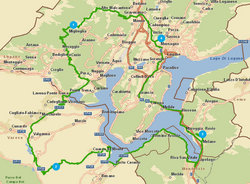 Redlands, CA (PRWEB) February 24, 2009
The new version of ESRI's StreetMap Premium, an enhanced street dataset that works with ESRI's ArcGIS software to provide geocoding, routing, and high-quality map display, includes expanded coverage and more licensing options. The enhanced dataset now gives users of ArcGIS Server and ArcGIS Desktop access to street data for the United States, Canada, and Europe that is tailored to their specific needs and geographic regions. ArcGIS is an integrated collection of geographic information system (GIS) software products, providing a platform to conduct spatial analysis, manage data, and serve cartographic information.
The commercial street data in StreetMap Premium is optimized, structured, and compressed to ensure ease of use and deployment with ESRI software products. The ready-to-use datasets, based on data from NAVTEQ, include streets and road networks as well as basemap data.
The standardized data structure of StreetMap Premium enables users to achieve the highest address geocoding match rates and generate the best routes and driving directions as well as produce superior basemaps. StreetMap Premium works seamlessly with cartographic applications that require address information and scheduling applications that require the most updated streets and addresses.
The new licensing model for StreetMap Premium allows users to get data customized to their desired geography and mapping needs, specifying regions and type of usage. Geography licensing options include continent (North America or Europe), country, or state/province. Usage licensing options include geocoding, routing, and/or cartographic display.
For more information on StreetMap Premium, visit http://www.esri.com/streetmap. Users outside the United States should contact their ESRI international distributor (http://www.esri.com/distributors).
About ESRI
Since 1969, ESRI has been giving customers around the world the power to think and plan geographically. The market leader in GIS, ESRI software is used in more than 300,000 organizations worldwide including each of the 200 largest cities in the United States, most national governments, more than two-thirds of Fortune 500 companies, and more than 7,000 colleges and universities. ESRI applications, running on more than one million desktops and thousands of Web and enterprise servers, provide the backbone for the world's mapping and spatial analysis. ESRI is the only vendor that provides complete technical solutions for desktop, mobile, server, and Internet platforms. Visit us at http://www.esri.com.
ESRI, the ESRI globe logo, GIS by ESRI, ArcGIS, StreetMap, http://www.esri.com, and @esri.com are trademarks, registered trademarks, or service marks of ESRI in the United States, the European Community, or certain other jurisdictions. Other companies and products mentioned herein may be trademarks or registered trademarks of their respective trademark owners.
###