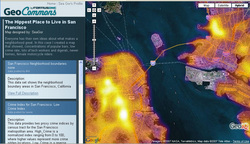 Arlington, VA (PRWEB) October 11, 2007
FortiusOne, Inc. (http://www.fortiusone.com), an emerging leader in next-generation Web mapping services, today announced that the geodata repository on its public GeoCommons site continues to grow rapidly and has surpassed 2,500 data sets.
News Facts

More than 1,000 data sets have been added since GeoCommons launched in May 2007.
In addition to the FortiusOne Data Team, over 90 GeoCommons community members have contributed data to the public repository.
The 2,500 data sets include over 23-million features and 45-thousand attributes.
Anyone can access and use the open-source geodata from the public GeoCommons site under a Creative Commons license.
GeoCommons information, including population, environment, recreation, education, politics, traffic, and employment data is constantly being updated and improved by the user community.
The public GeoCommons site is a place where anyone can explore, create, and share geographic data and intelligent maps.
To date, more than 2,000 users have joined GeoCommons to explore, create, and share geographic data and intelligent maps.
Additional Media

Quotes Attributed to Sean Gorman, CEO of FortiusOne

Making geographic data much more easily accessible is one of our core missions at FortiusOne.
We are pleased at the growth of our Public GeoCommons data repository, and particularly excited that community members have begun to contribute data.
The real power of GeoCommons data is in the exponential mapping possibilities created with each addition.
With over 45,000 attributes and 23,000,000 features among the data sets, there are already billions of mappable data combinations.
About FortiusOne:
FortiusOne provides next-generation intelligent mapping services that make the World's geographic data accessible to everyone for learning, decision making, and problem solving. Its breakthrough intelligent mapping technologies offer rich information visualization on maps, unprecedented access to geographic data, and new ways to grow collective knowledge. FortiusOne's public GeoCommons atlas site is a place where exploring, creating, and sharing an open source catalogue of geodata and maps is as easy as local search. FortiusOne offers a range of products and services based on the GeoCommons platform to enable government and commercial customers to leverage intelligent maps in their own applications
Contact
Michele Capots, PR Counsel for FortiusOne, (703) 647-6209,
###