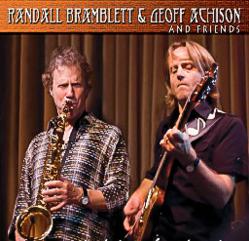 "It doesn't get any better than Geoff Achison and Randall Bramblett if you love guitars, blues, folk, rock, brilliant lyrics and vocals. That the Tryon Fine Arts Center is bringing such talent to Tryon is to be applauded, " shares Lichty.
Tryon, North Carolina (PRWEB) May 04, 2012
Critics agree that when Geoff Achison and Randall Bramblett perform together it's a concert not to be missed. "Incendiary. That's the word. BURNIN' HOT. I have heard some great jam bands. I grew up on The Allman Brothers, Grateful Dead, etc. But I have never, no NEVER, heard better jamming than I heard last night," wrote a reporter for the Atlanta Examiner after an Achison/Bramblett show. These musicians have played with the best of the best including Widespread Panic, The Band, The Allman Brothers, Steve Winwood, Derek Trucks Band, Stevie Wonder, Hot Tuna, Santana, Susan Tedeschi and many more.
For over forty years Tryon Fine Arts Center has brought the finest in performing and visual arts to the foothills of the Carolinas. They continue this great tradition by bringing these four powerhouses in the music industry together on stage.
In collaboration with Tryon Fine Arts Center and WNCW, Lichty Guitars is a sponsor for this event. Tryon guitar builder Jay Lichty designed and built a custom guitar for Geoff Achison, who plays his Lichty acoustic guitar exclusively for his US tours.
Concert details:
▪ Date: June 2nd, 2012
▪ Time: 8:00 pm
▪ General Admission Tickets: $15, call Tryon Fine Arts 828-859-8322 or visit http://www.tryonarts.org
About Lichty Guitars
Luthier Jay Lichty builds handmade acoustic guitars and ukuleles in Tryon, NC. He was the winner of the 2010 Made in the South Award and has top performing artists playing his guitars from Japan to Nashville. He specializes in working with clients to build heirloom quality custom instruments. Learn more at http://www.lichtyguitars.com.