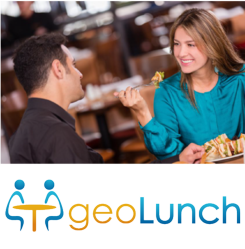 Lunch is a casual and low cost way to meet new people and geoLunch makes it very easy to do just that.
Frisco, TX (PRWEB) June 11, 2013
geoLunch is a social discovery website/app for finding someone in the local area to meet for lunch. It can be used for lunch dating, making new friends, or business networking.
The concept is simple. Users sign in between 10:00 am and 1:00 pm and immediately see a list of other users in the area who are also signed in and in search of a lunch partner. Each user is represented with a first name, photo, and brief bio. A secure chat service is provided for users to interact and set up a lunch meeting. Users can chat with as many other users as desired, but all conversations are exclusively two-way and private (currently geoLunch does not support a group lunch dynamic). In addition, users can "Tag" another user. This signals an interest in starting a conversation about setting up a lunch meeting without having to send an initial chat message - similar to a wink on a dating site.
While the search service only operates between 10:00 am and 1:00 pm, users can sign up and edit their profile at any time. Signing up is easy, requiring only a first name and photo to get started. In addition, users can optionally provide a brief description of themselves, their profession, age, gender, and specify if they are interested in dating, business networking, or just finding friends.
Several social discovery sites have come under fire for their mishandling and abuse of their users' location information, but geoLunch has a very strict privacy policy and is very careful with its users' location information. geoLunch users do not know each other's exact location or distance, only that they are in the same local area.
Anonymous viewing of user profiles is another sensitive topic for social discovery sites. With geoLunch, however, a user's profile is only available while that user is signed in and is viewable only by other signed in users in the local area. A user is always aware of who is viewing her profile, and when they are viewing it, because she is viewing their profiles at the same time.
geoLunch is currently launching exclusively in the New York metropolitan area, but will be rolling out to other markets at the end of summer.