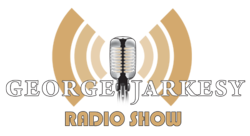 Houston, TX (PRWEB) February 29, 2012
The George Jarkesy Radio Show, hosted by George Jarkesy, is a nationally syndicated radio program on The Wall Street Business Network and CRN 5. The show, which airs from 4-5 PM Eastern, Monday through Friday, hosts a wide variety of guests in order to inform Americans on various topics relating to business and politics. The week beginning on February 20, 2012 entertained guests from Money Answers, bestseller Jordan Goodman to ETWN's and Priests For Life National Director, Father Frank Pavone. The full week of shows is now available on http://www.georgejarkesy.com and on Apple iTunes.
Monday's show opened with Antonio St. Lorenzo as a new Entrepreneurial Warrior of the Week. Lorenzo, who served two tours of duty in Vietnam, is now the cofounder and CEO of Heroes Village. Heroes Village is a series of communities nationwide where American heroic Veterans and their families can find affordable, state of the art, "green", customizable homes. Heroes Village will not rest until veterans can purchase a home worthy of their sacrifice to our country. Each Heroes Village will be built by Veterans, for Veterans, with American materials and appliances and will contain the facilities required to rebuild your mind, body, and soul.
Tuesday featured David Sterman, investment analyst, and Angela Morabito, PR Director for The College Conservative. Morabito discussed how the Obama Administration is effecting the FDA, while Sterman went on to discuss growth in Latin America and how it can effect investor's portfolios.
On Wednesday's show Jarkesy hosted Jordan Goodman, the "Money Answers Man" to discuss with listeners ways to improve and organize their personal finances. Later in the show Matt Robbins, executive director for American Majority, came on to discuss the organization.
Thursday's show featured General Joe Rameriz, commandant for the Texas A&M Corps of Cadets, to discuss how the corps is currently affecting the American military. Also on the show was John Willoughby, 26 year career Navy Officer, who discussed why he is running for U.S. Congressional candidate for Utah.
The week closed out with Friday's show, which featured Doug Bartole, CEO of Vero Energy, and Father Frank Pavone, National Director for Priests For Life. Bartole discussed the evolving of small business, while Father Pavone discussed the difference between a democracy and a republic.
The week of February 27th features guests including ESPN and ABC sports commentator Craig James and CATO's Mark Calabria.
All shows are archived, and can be listened to at anytime at http://www.georgejarkesy.com. Episodes can also be found on Apple iTunes. Any books featured by guests on the show can also be found and purchased on the site's Bookstore.
The George Jarkesy Show airs from 4-5 PM EST, Monday through Friday, and can also be heard live at http://www.georgejarkesy.com. For more information on The George Jarkesy Show and upcoming/past guests please visit their website.
About Jarkesy & Company
George Jarkesy is a money manager and professional investor, respected financial and corporate advisor, and radio host of the nationally syndicated 'The George Jarkesy Show'. He is a frequent market commentator and guest on FOX Business News, FOX & Friends, and CNBC. George started his career in the financial services industry with a New York Stock Exchange member. George also serves on the Finance Committee of the Republican National Committee and is an active member of the National Investment Banking Association, The Jarkesy Foundation, and Chairman of The National Eagles and Angels Association. For more information on Jarkesy & Company, please visit: http://www.jarkesy.com
###