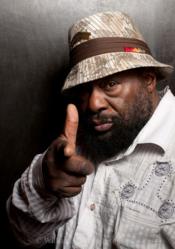 Most lawsuits are about money...this one's about what's FUNKIN' RIGHT!
Los Angeles, CA (PRWEB) December 08, 2011
George Clinton continues to record and tour tirelessly at 70 and yet he still finds time to fight in court to right a "ton of wrongs" (Case # CV11-10062; Central District of California); plus he recently partnered with DC NetCast Media Group to reignite his music and publishing catalogue through the exploitation of new media.
In an aggressive litigation filed in the central district of California, legendary recording artist has taken action to recover damages for alleged copyright & trademark infringement of valuable rights related to his act Funkadelic, and a bevy of intellectual properties that were allegedly pilfered early in his career, and will serve to complete a decade long struggle to recover that which was allegedly stolen long ago from the iconic artist.
According to his claim, Clinton asks for "damages, declaratory relief, permanent injunctive relief, and equitable relief … for the unauthorized use, sale, and other commercial exploitation of the sound recordings owned by Clinton under the artist name Funkadelic…" Clinton charges that a worldwide group of corrupt companies allegedly assumed "...unauthorized use of the Funkadelic trademark and Clinton's name, likeness and image for the unauthorized use, sale and commercial exploitation of these infringing products."
Lawyers for Clinton say the action covers decades of allegedly corrupt business practices and fraudulent copyright filings, and will serve to expose a massive international web of conspirators and perpetrators.
"I worked my entire career to make music, and I trusted that established companies and some top level industry executives would not lie, steal or cheat… Most lawsuits are just about money, this one's about what's FUNKIN' right!" said Clinton. "I have been working with congressmen, elected officials and quality lawyers in order to right a ton of wrongs, not just for me, but for songwriters, composers and copyright holders everywhere."
Click here to follow George's fight for Artist Rights.
Last month Clinton announced entering into a business partnership with Canadian entrepreneur Howard Mann to start a company called MixMine, developed by his company DC NetCast Media Group.
"While George Clinton continues to perform in his 70's, he can now focus his efforts on emancipating himself and other African-American musical artists from a history of unfair bargaining and a culture of exploitation," said Howard Mann. "Partnering with MixMine will help George Clinton reignite his music and publishing catalogue through the exploitation of new media."
About DC NetCast Media Group Inc.
DC NetCast Media Group Inc. is a media & entertainment company with a keen focus on investing and developing social media that is centered on proprietary content. More information is available at http://www.DCNetCast.com, or by contacting Howard Mann at (310) 926-2141.
Contact:
Howard Mann – CEO
DC NetCast Media Group Inc.
(310) 926-2141
hmann(at)dcnetcast(dot)com
# # #