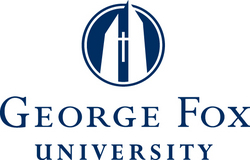 The award took me by complete surprise
Newberg, Ore. (Vocus) August 25, 2009
The Oregon Art Education Association will honor Mark Terry, an assistant professor of art at George Fox University, with its 2010 Oregon Higher Education Art Educator of the Year award at the OAEA's fall conference in Redmond, Ore., on Sunday, Oct. 11.
Terry, now in his 25th year as a full-time teacher and 13th year at George Fox, earned the award both for his work at the university, where the art major, launched just 11 years ago, has grown to more than 100 students - one of the largest majors on campus - and for his efforts to facilitate art education at public schools throughout the region.
Terry also oversees the university's connection with the Noble Hill Anagama Kiln in Forest Grove, Ore., the focal point of the school's ceramics program since it was first fired in April of 2004.
"The award took me by complete surprise," Terry said. "I suspect that our long-standing commitment to mentoring elementary and secondary art teachers, and partnering with their programs, may have played some part in it. We have long sent both teachers and undergrads out into elementary schools to do art programs, and alums from our program have become influential teachers in at least a dozen middle and high schools in the region. We also have active partnership programs with nearby high schools."
Among other projects, George Fox has hosted the "All-Northwest High School Art Show," the only juried event of its kind in the Northwest, since the mid-1990s. The university also has a long-standing partnership with C.S. Lewis Academy art students, providing lab and instruction during May Term. And last January, the university hosted an exhibition in its Minthorne Gallery of area elementary and secondary teachers' work, entitled "Artists Who Teach."
"We are missional about bringing light to the world through art and understand that seeds need to be planted and nurtured long before students reach the university if we are to be successful in preparing young artists for careers in the arts," he said.
To this end, Terry supervises annual cooperative firings of the Noble Hill Anagama with students from Lake Oswego high schools. Requiring three years to build, the Noble Hill Anagama is a large hill-climbing, wood-fueled kiln that is modeled on the ancient kilns and firing traditions of Korea and Japan. Firing it is a cooperative and communal event that takes several days.
The Oregon Art Education Association is a not-for-profit organization with a volunteer board of art educators from around the state of Oregon. The OAEA's mission is to advocate for the advancement and expansion of quality visual arts education. Founded in 1973, it is affiliated with the National Art Education Association.
George Fox University is ranked by Forbes as one of the top 100 colleges in the country and highest among Christian colleges. George Fox is the only Christian university in the Pacific Northwest classified by U.S. News & World Report as a national university. More than 3,300 students attend classes on the university's campus in Newberg, Ore., and at teaching centers in Portland, Salem, and Redmond Ore., and Boise, Idaho. George Fox offers bachelor's degrees in more than 40 majors, degree-completion programs for working adults, five seminary degrees, and 12 master's and doctoral degrees.
###