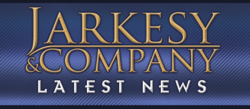 Houston, TX (PRWEB) December 23, 2011
George Jarkesy, Chairman of the National Eagles and Angels Association http://www.eagleandangel.com, and noted investor and money manager, delivers new and insightful comments on Case #19-CA-032431, the showdown between Boeing and the National Labor Relations Board. The NLRB, following a negotiated settlement between Boeing and International Association of Machinists, withdrew the case, heard by Administrative Law Judge Clifford Anderson in Anchorage, Alaska.
Mr. Jarkesy examines the issue from the perspective of possible uncertainty for employers, in a time when jobs are urgently needed. His experience as a business owner and chairman of a pro-small business organization provides a different perspective on the case. He laments the view that "the business of America is a bigger Washington and less business."
Mr. Jarkesy stated that "After extracting more concessions from Boeing, the union asked to drop the case, and the NLRB complied. How blatantly political is that?" His editorial calls for a non-partisan role for the NLRB, and the focus on building and expanding American business and jobs, instead of picking sides in favor of unions.
As a possible solution, Mr. Jarkesy also argues against regulation by proposing that the Obama administration should "lower the immense economic burden on US business and allow labor to receive a piece of the savings from slashing bureaucracy and red tape."
To read the full article visit Business Insider.
About George Jarkesy and Jarkesy & Company
A money manager and successful professional investor, respected financial and corporate advisor, George is currently focused on managing his and his partners many investments. He is a frequent market commentator and guest on FOX Business News, FOX & Friends and CNBC. He is also the host of the nationally syndicated "George Jarkesy" radio show, which will launch on January 6, 2012. George started his career in the financial services industry with a New York Stock Exchange member. George also serves on the Finance Committee of the Republican National Committee and is an active member of the National Investment Banking Association, The Jarkesy Foundation and Chairman of The National Eagles and Angels Association. Jarkesy & Company is the home office of Mr. Jarkesy and works with media related to investing and political issues.
About National Eagles and Angels Association
The National Eagles and Angels Association (NEAA) is a select group of individual investors, family offices, institutional investors, and successful serial entrepreneurs. Members of NEAA come together at local chapter meetings to learn about undervalued companies, to establish long term relationships, to educate and to be informed on common financial and business interests; thereby becoming a more informed and prepared investor. Through the Internet, our national membership creates connections among its members to promote small business. Through local Chapter meetings, members cement relationships and build a long term epicenter for doing business. Our membership fee guarantees that our members are serious investors who attend Chapter Meetings in search of opportunities in the market. NEAA members have the wherewithal to invest in opportunities that they believe will appreciate greatly in value.
###