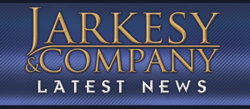 (PRWEB) February 03, 2012
The George Jarkesy Show featured Rob Swartwood, Ranger Coffee's President, as their Entrepreneurial Warrior of the Week
The George Jarkesy Show's 'Entrepreneurial Warrior of the Week' is a segment dedicated to the military men and women who serve America. Jarkesy uses the segment to highlight a veteran who has built a successful small business and helped to create American jobs. Veterans are invited to write and call into the show, and one is picked every week to be featured on the show.
On the week of January 23rd, The George Jarkesy Show picked Rob Swartwood, a West Point graduate and a former Captain in the US Army. He served with the 82nd Airborne Division in Iraq and Afghanistan and he was awarded the Bronze Star Medal for combat service twice. He is now an attorney, and as of January 2011, President of Ranger Coffee.
Ranger Coffee is a service disabled veteran owned business providing high quality coffee products throughout the world. In 2012 the company rededicated itself to a purpose much broader than selling coffee: "veteran impact." With veteran suicide, unemployment, divorce and homelessness rates at staggering levels, Ranger Coffee is committed to investing 50% of its distributed profits in the organizations which support, rehabilitate, and assist veterans with their transition to civilian life: strong veterans means a strong America
Their coffee is currently available in five varieties, including their "hypercaffeinated" blend, which includes twice as much caffeine as a regular cup. Ranger Coffee is pursuing the goal of becoming a "Veteran Impact Company," dedicated to increasing awareness of and investing in our veterans. Currently, they operate a "Coffee for the Troops" program, where customers can purchase a care package of coffee, which will be sent to a soldier from their site's 'Soldier Sign-Up' feature along with a note of thanks from the donor.
To hear Rob Swartwood on The George Jarkesy Show Click Here.
You can learn more about the company and donate a bag to a troop at http://www.rangercoffee.com. You can also find them on Facebook as well as Twitter @rangercoffee
Swartwood entered to be the Entrepreneurial Warrior of The Week by going to http://www.georgejarkesy.com, and clicking on the Entrepreneurial Warrior logo. If you are a veteran and entrepreneur and would like to be an 'Entrepreneurial Warrior of the Week,' Jarkesy asks you to follow Mr. Swartwood's example.
Jarkesy & Company
George Jarkesy is the host of the nationally syndicated show, The George Jarkesy Show, Chairman of the National Eagles and Angels Association, and CEO of Jarkesy & Company. As a successful money manager and professional investor, respected financial and corporate advisor and a dynamic public speaker, George has founded, invested in, and helped to build companies engaged in a broad range of industry sectors, including financial consulting, media, real estate investing, real estate management, employee leasing, light steel manufacturing, livestock management, high technology, natural resources, healthcare and biotechnology.
###