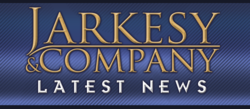 HOUSTON, TX (PRWEB) January 05, 2012
On January 9, 2012, The George Jarkesy Show, hosted by National Eagles and Angels Association Chairman and noted money manager George Jarkesy, will launch on the Wall Street Business Network, available on AM/FM radio. The nationally syndicated show will initially air from 4-5PM Eastern Standard Time nationally syndicated in five major radio markets and will also stream live online at http://www.georgejarkesy.com, with archives available for later listening. The show plans on expanding to more markets following its debut.
Jarkesy will draw upon his vast experience as a serial entrepreneur, investor, and pro-American businessman to provide an insightful and candid overview of the economy, markets, and politics, which affects all Americans and their money. "This is not just another talk show," he states. "I'm excited to bring out the real issues that America is grappling with and come up with real ideas and serious solutions. There will be no mere scratching the surface on The George Jarkesy Show - we will always go in depth and dissect the issues. We will strive to seek the truth in stating our problems, and propose real solutions."
With an insightful guest lineup for the start of 2012, Jarkesy says, "I am very excited to launch this show. We will inform and educate our listeners in hopes they will break away from the herd and their reliance on 'the way it's always been'. I hope to simplify complex economic and sociopolitical issues, empowering people with information and reigniting their passion for investing and building businesses in America."
The show will launch this January initially in five markets: Houston, Atlanta, Orlando, Providence (Boston), and Sacramento, and will expand throughout 2012. The show will also stream online at http://www.georgejarkesy.com. Visit the website for guest lineups, George's biography, and more information on the show.
###