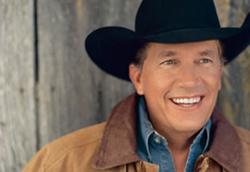 Don't think I'm retiring because I'm not. I'm still going to make records as long as [his label chief] Mike [Dungan] will let me.
Pittsburgh PA (PRWEB) October 16, 2012
On September 26th George Strait announced his farewell tour, appropriately called "The Cowboy Rides Away". He was adamant that he was not retiring but will not go out on the road again after this 2 year tour ends. Strait said, "It's been a hard decision for me to make, but as far as touring goes, I've decided I'm not going to tour anymore after the next two years." George Strait has won CMA Entertainer of the Year in 1989 and 1990, and ACM Entertainer of the Year in 1990. He is racked up an amazing 59 number-one hit songs; sold nearly 69 million albums in the United States which includes 13 multi-platinum, 33 platinum, and 38 gold albums to his credit. The much anticipated "Cowboy Rides Away" tour kicks off in Lubbock TX on January 1, 2013 and ends in San Antonio TX, on June 1, 2013 and with more dates to possibly follow. Below are some key tour dates, for full dates and tickets from headlinetickets.com click here
January 19: Oklahoma City, Okla.
February 16: Grand Forks, N.D.
March 1: Knoxville, Tenn.
March 2: Lexington, Ky.
March 17: Houston, Texas
March 22: Greenville, S.C.
March 23: Greensboro, N.C.
April 12: N. Little Rock, Ark.
April 13: New Orleans, La.
June 1: San Antonio, Texas
When legends from any music genre announce a "farewell tour' fans become nostalgic and demand for those concert tickets begin to skyrocket and public sales sell out quickly, leaving the many fans frustrated. For those fans needing to turn to the secondary ticket exchange for their George Strait tickets. Headlinetickets.com will have the guaranteed lowest final prices after fees and delivery have been added. Please use discount code "unwound" for an extra $5 off.
Headline Tickets Now is one of the most popular secondary ticket websites on the Internet. They have affordable sports, theater, and concert tickets across the United States and Canada, all without service fees. Headline Tickets Now is an accredited business with the Better Business Bureau (BBB) of Western Pennsylvania.