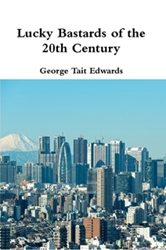 WARMLY, N.C. (PRWEB) November 18, 2015
In "Lucky Bastards of the 20th Century" (published by Lulu), author George Tait Edwards sets out to explain the story of the economic bomb and the efforts Edwards made to make the British populace aware. Edwards also describes the development of an alternative economics theory that he asserts would provide a path to prosperity.
"Western-economists appear to have no idea about the more effective economics which lies at the root of the four high growth China Sea economies (Japan, South Korea, Taiwan and China)," Edwards says. "This is the story of how I found out how the economic bomb was made, and how I tried to interest British politicians, industrialists, businessmen, journalists, economists and bankers in these findings."
The book also elaborates on what the author calls more effective economics, which are currently being practiced by all of the China Sea economies – Shimomuran economics. Edwards warns of the "continual relative failure of the Western economies" should the West not begin to make changes.
"Lucky Bastards of the 20th Century"
By George Tait Edwards
Softcover | 6.14 x 9.21 in | 303 pages | ISBN 9781326064327
About the Author
George Tait Edwards was born in Edinburgh, Scotland, in 1941. He graduated with two degrees from the University of Edinburgh. He has spent the last 44 years researching and writing books and articles upon high growth economics. Edwards is married with four children and lives in Bristol, England.
Lulu empowers people of all ages to explore and express their interests, passions and expertise through books, photography and art. Since introducing self-publishing in 2002, Lulu has empowered creators in more than 225 countries and territories to produce nearly two million publications. Lulu Jr. allows children to become published authors, encouraging creativity, strengthening literacy and building self-esteem. Picture.com offers professional photography of collegiate and professional sports, memorable and historic events, fine art and home décor. For more information, please visit lulu.com.