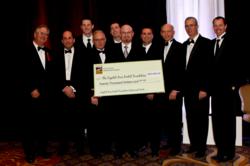 GEORGETOWN, TEXAS (PRWEB) April 04, 2013
Dr. William Cain, an oral surgeon with Austin Oral Surgery, has made a donation to sponsor horseback rides at the annual fundraising event for Mrs. Mac's Shining Stars, a school in Georgetown, Texas.
By sponsoring the horseback rides, Austin Oral Surgery is ensuring that more money from the fundraiser will go back to improving the quality of education at the school. The fundraiser will also feature a petting zoo, face painting, train rides, inflatable water slides and more.
"Mrs. Mac's Shining Stars provides an excellent education to its students," said Dr. Cain, a Georgetown oral surgeon. "The graduates of this school are often incredibly prepared for Kindergarten, and that's largely because the school works hard to instill in students a love for learning. Because of this fundraiser, the school is able to provide students with exceptional learning opportunities, so I'm glad we were able to support this event."
Austin Oral Surgery is committed to giving back to the Central Texas community. In addition to donating money for this fundraiser, Austin Oral Surgery has recently donated money to the American Cancer Society Relay for Life, the Fayette County Fair and Colin's Hope. Earlier this year, Austin Oral Surgery made a $20,000 donation to the Capital Area Dental Foundation to establish the Austin Oral Surgery Legacy Fund, which will form the base of an endowment for community dental care.
About Austin Oral Surgery
Austin Oral Surgery is an oral and maxillofacial surgery practice with 10 locations in the Austin area, extending from San Marcos to Temple and La Grange to Marble Falls. The practice's 12 doctors provide individualized oral care in all of their services, including wisdom teeth removal, dental implants, corrective jaw surgery, facial trauma treatment, sleep apnea treatment and TMJ treatment. Since it was founded 41 years ago, Austin Oral Surgery has provided quality care to each of its patients through the team's dedication to excellence.
###