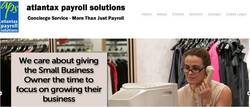 Marble Hill, GA (Vocus) September 13, 2010
Atlantax Payroll Solutions, LLC (APS) is a new Georgia payroll company that was launched to serve small businesses in the southeast U.S. The Company's mission is to rescue the small business owner from the large impersonal payroll service bureaus that do not understand the needs of small business. The idea behind the firm is to provide the small business owner the time to focus on growing their business by leaving payroll processing to APS. With APS in charge of their payroll processing small business owners won't have to worry about changing tax laws, complex reporting requirements, using company resources for payroll processing or being at the mercy of large and impersonal payroll service bureaus.
Atlantax Payroll Solutions was formed from a joint venture between the owners of two highly experienced tax businesses, Atlantax Systems and DO CPA Services. Gary Rhodus, founder and owner of Atlantax Systems, has operated his highly successful sales tax processing business for over 20 years. CPA Deborah Osgood's accounting business has been delivering CPA services to small businesses for over 27 years. APS was founded by combining the skills of these two entrepreneurs and their combined business services. The new company fills the needs of small businesses by providing complete high quality payroll services at a price that they can afford. The company is staffed with team of CPAs and payroll specialists trained and equipped to handle any type of payroll challenge. To support the new company a high visibility website was developed to enable clients to access their accounts and potential new customers to get immediate quotes for payroll services.
The website highlights APS's payroll administration services which includes a wide range of pay types and schedules, direct deposit, check printing and employer and employee portal access. The information on the website also includes APS services such as tax filing and compliance to fulfill state and federal quarterly and annual filing requirements. Atlantax Payroll Solutions also handles small business benefits and services including 401k, Health and Dental Plans, Pay-As-You-Go Worker's Compensation, and Pay Cards. They also manage specialty payroll processing such as after-the-fact payroll, restaurant and clergy payroll processing.
Deborah Osgood, CEO of Atlantax Payroll Solutions, LLC provided her insight into the launch of the new company. "Payroll, tax and financial reporting are becoming more complicated for businesses of all sizes, but they are especially burdensome for small businesses that don't have large accounting departments to manage all the forms and government required reporting. Atlantax Payroll Solutions provides the expertise and services that allow small companies to focus on growing their own business and leaving the payroll processing and reporting to us. We are a unique payroll company that goes above our run-of-the-mill competitors to deliver a concierge level of payroll services such as account designated payroll specialists and high security data storage. We want our customers to be more than just happy with our service; we want them to be so pleased with our performance that they refer other businesses to us."
APS website development and Search Engine Marketing Servcies provided by Interactive Search Marketing Atlanta, GA. Atlantax Payroll Solutions, LLC is located at 171 Foothills Parkway, Marble Hill, GA 30148, and can be reached via their website and by phone at 866-422-7212.
###