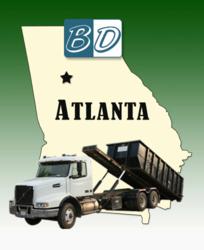 Atlanta, GA (PRWEB) February 28, 2013
Budget Dumpster is providing Atlanta with a service that rents residents temporary roll-off containers as well as waste removal of various forms of refuse and debris. They work with homeowners and contractors throughout the city of Atlanta and the rest of the country alike. A wider service area is now offered in the city to provide more options to its residents.
From beginnings in Cleveland, the company has expanded across the United States and partnered with haulers that are available nationally as well as locally. Recently the company has extended its reach in Atlanta to encompass a more robust set of counties and neighborhood. They can now service all of Fulton County as well as the surrounding Cherokee, Forsyth, Gwinnett, DeKalb, Clayton, Fayette, Coweta, Douglas, Pauling, and Cobb counties. They have also expanded to provide a roll-off rental in other counties in the greater Atlanta area which include: Hall, Henry, Banks, Clarke, Dawson, Habersham, Jackson, Newton, Pickens, Rabun, and Rockdale.
Budget Dumpster utilizes local transfer stations and recycling centers to more efficiently handle the waste that comes their way in customers' roll-off containers. Not only working locally, but also disposing locally greatly helps to keep the fuels costs and emission production down which in turn leads to a greener dumpster rental and waste removal process. The use of transfer stations also benefits the customer in a different way. Renters with Budget Dumpster do not have to sort their refuse that gets thrown into the roll-off. All they must do is fill the container and send it back out and that job is handled for them.
Budget Dumpster can provide all of the counties they service with a waste container in the following sizes: 12 yard, 20 yard (in 4,000 and 6,000 pound options), 30 yard, and 40 yard. All of these choices are available for household as well as construction debris. For heavy debris, yard debris, and clean dirt, the option of a 20 yard dumpster is available. All are roll-off open-top dumpsters that arrive on a flatbed truck and are literally "rolled-off" the back of that truck. They can be loaded by tossing the debris over the walls or by opening the door on the front of the unit and carrying the debris into the waste container. These are a larger and more cost-effective alternative to the traditional top-loading units that have separate flaps and are emptied by the front-loader truck arms.
About Budget Dumpster
Budget Dumpster specializes in customer service by using the wealth of experience its employees and owners have gained through being in the industry for almost a decade. With their network of haulers they have been able to expand their business from its Midwest beginnings out across the country and into major metropolises such as Atlanta. With these relationships all over America, they are able to provide a customer service experience that is vastly different from what is normally offered by others in the industry. They have a full breakdown of their service area and listing of cities divided up by location on their website http://www.budgetdumpster.com. Waste removal is currently available in 42 states and Washington, DC.