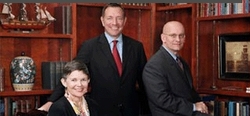 "We are pleased to offer our family law clients expanded service through the enhancement of our firm's capacity, as well as practice areas."
Atlanta, GA (PRWEB) February 1, 2010
Despite difficult economic times, the Atlanta law firm of Kitchens, New and Cleghorn Atlanta Divorce Attorneys, LLC has recently expanded its family law client services by opening an Athens, GA office, adding two attorneys, and launching an adoption practice. "We are pleased to offer our family law clients expanded service through the enhancement of our firm's capacity, as well as practice areas," said Atlanta Attorney Randy New, the firm's managing partner.
In August 2009, the firm opened an Athens GA office under the leadership of founding partner Athens divorce lawyer Joyce Kitchens. Ms. Kitchens added Athens Attorney Michele Harris as an of-counsel attorney to the Athens office. Ms. Harris is a graduate of the University of Georgia School of Law who previously worked for the Athens-Clark County Solicitor's office. "With the addition of Ms. Harris, the Kitchens, New & Cleghorn, LLC Athens office offers experienced and compassionate family law services ranging from divorce to child custody disputes to post-divorce modifications," said Ms. Kitchens. The Athens GA office is located in the heart of town at 264 Jackson Street, Athens, GA 30601.
Moreover, the firm's Atlanta office, in September 2009, added Family Law Attorney Rebecca Glatzer. Ms. Glatzer, a graduate of Georgia Tech and the University of Illinois, Urbana-Champaign School of Law, previously worked for the law firm of Hyatt & Stubblefield, P.C.. Ms. Glatzer spearheads the firm's newly launched adoption practice. "We are pleased to add Rebecca to the Kitchens, New & Cleghorn legal team. The practice of Family Law is enhanced by providing adoption services to our clients, " said Mr. New.
Mr. New and Ms. Kitchens, both graduates of Emory University School of Law, founded the firm in 2001 as Kitchens New, LLC. In conjunction with its expansion, the firm rebranded in August 2009 by adding Atlanta Divorce Lawyer Jeff Cleghorn as a named partner. Mr. Cleghorn, a graduate of The George Washington University School of Law, joined the firm in November 2003. The Atlanta office is located in Buckhead at 2973 Hardman Court, Atlanta, GA 30305.
For more information on the subject of Georgia divorce, adoption, child custody, child support, and other services offered by the Atlanta and Athens offices of Kitchens, New & Cleghorn Atlanta Divorce Attorneys please visit http://www.gadivorcelitigators.com.
###