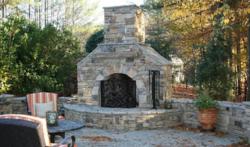 "Clients will have access to one of the largest natural stone inventories available in Atlanta and North Georgia."

Justin Payne - Vice President
Atlanta, GA (PRWEB) September 14, 2011
One of the largest natural stone distributors in North Georgia is now even larger. Alliance Stone is pleased to announce the opening of its new expanded location in Cumming, Georgia. Customers who have enjoyed the wide selection of natural stone products and excellent customer service at Alliance Stone's Francis Road location in Alpharetta can now find an even wider selection and the same great service at their new location on Campground Road in Cumming.
Alliance Stone has established a reputation as the industry leader in North Georgia for natural stone products. Alliance Stone carries a wide selection of the highest quality fieldstone, flagstone, boulders, pavers, and other landscaping products. Whether a homeowner or a professional landscaper, Alliance Stone has one of the widest selections of natural stone in Georgia. Natural Stone is widely used in retaining walls, patios, walkways, outdoor fireplaces, or any other hardscape. Alliance Stone keeps their prices low by selling directly to homeowners and professional landscapers.
At a time when most other businesses are cutting back, Alliance Stone is expanding in order to better meet client's needs and better serve their client base. The Alliance Stone Alpharetta location already had one of the widest selections of natural stone in North Georgia and their new Cumming location is even larger than their original location. The new location boasts an expansive selection of natural stone and other landscaping products.
Alliance Stone's new Cumming location will offer all of the excellent services available at the original Alpharetta location. Delivery is available six days a week with offloading directly at the clients job site. Rates vary depending on location and Alliance Stone never adds a surcharge for fuel or pallets. Alliance Stone can also arrange shipping and pricing directly from the quarry to meet a client's needs.
Credit is available with approval and Alliance Stone can help homeowners find an outstanding landscaping contractor for any sized project. Alliance Stone works with the best landscaping contractors in North Georgia and can recommend a top contractor who will be a great fit for a homeowner that is looking for a reputable landscaping contractor.
Both homeowners and professional landscapers trust turn to Alliance Stone when looking for top quality natural stone and other landscaping products. Alliance Stone provides clients with natural stone throughout the Southeast including Atlanta, North Georgia, South Carolina, North Carolina, Tennessee, and Alabama. Homeowners and landscape professionals who are looking for the highest quality natural stone can shop at Alliance Stone's original location in Alpharetta or at their convenient new expanded location in Cumming.
###