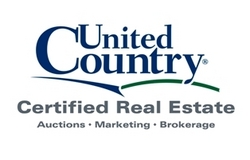 These Georgia real estate auctions give buyers an amazing opportunity; being able to purchase South Georgia properties at buyer's prices is simply unheard of.
Moultrie, GA (PRWEB) January 21, 2009
Georgia land auctions and Georgia real estate auctions will be conducted by United Country Certified Real Estate and Myers Jackson, licensed Georgia real estate broker and real estate auctioneer for over 333 +/- Acres of South Georgia land for sale in Grady and Mitchell County Georgia.
"At these Georgia land auctions, there will be four different properties offered to the highest and best bidders," explains Jackson, an Accredited Auctioneer of Real Estate and graduate of the Certified Auctioneers Institute. "These Georgia real estate auctions give buyers an amazing opportunity; being able to purchase South Georgia properties at buyer's prices is simply unheard of."
After just a few weeks of aggressive marketing and heightening awareness, buyers are growing anxious to have the choice to purchase the properties up for auction in Grady and Mitchell County Georgia. Curious callers have inquired about the bidder registration process and the qualifications required to bid on the land, and interested parties have asked questions concerning the logistics of the transactions, the bidding process, and the location of these Georgia real estate auctions events.
These Georgia land auctions will start at 10 a.m. on Saturday, January 31st and all properties will be selling from 00 Banks Road in Grady County, Cairo, Georgia. Terms and conditions will be read aloud, any remaining questions will be addressed, and only the highest and best bids will be taken into consideration.
There will be two Grady County properties offered in these Georgia land auctions. The first tract consists of 171+/- Acres of recreational land and timberland and the second property is a South Georgia residential home with 6+/- Acres in Cairo. The two Mitchell County properties include a 94+/- Acre timber and hunting tract and a 62+/- Acre Georgia real estate development tract that is adjacent to a nine hole golf course. All four of the properties offer excellent opportunities for purchasers to bid and win South Georgia real estate at auction and make an excellent return on investment. The properties will be offered divided and are selling high bidder's choice. The seller will be onsite the day of the sale to confirm bids.
Jackson says the real estate auction method of marketing was chosen by the sellers to expedite the sale process and give buyers an unprecedented opportunity to buy South Georgia properties in an open and public forum. The sellers, having varied motivations, wished to reach a qualified bidder pool, save time in the marketing process, and present an optimal chance for buyers wishing to capture incentives in today's land and real estate market. When these Georgia lands are brought to the auction block, all qualified, registered bidders will compete for the privilege to sign contracts.
"There is no better way to market land in this environment," said Jackson. "A property of this type requires sophisticated buyers who are well qualified to purchase, able to pay cash or obtain financing quickly and close in a manner that affords the seller the ability to make decisions on a structured timeline."
Event news and details of these Georgia land auctions are available online at the real estate auctioneer's website http://www.CertifiedRealEstateAuctions.com. Interested parties may view the Georgia real estate auction video. Jackson can be contacted by phone at 800-711-9175.
United Country Certified Real Estate specializes in Real Estate Auctions, Marketing and Brokerage. Our services include Live Onsite Real Estate Auctions, Online Only Auctions and everything in between. We sell a variety of real estate to include: land auctions, acreage and farm auctions, luxury homes, residential and commercial real estate, waterfront real estate, and bank owned real estate. Contact the Real Estate Auctioneer today to discuss the benefits of selling your real estate at Auction!
# # #