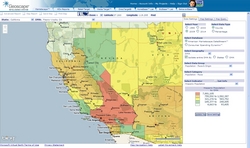 The FREEmium Edition GIS will offer users valuable consumer insights – such as socio-demographic, economic and spending data – at no cost.
Miami, Fla. (Vocus) March 5, 2010
Geoscape announced today the release of the FREEmium Edition of the Geoscape Intelligence System (GIS), which provides an array of powerful market intelligence functions through a user-friendly web browser interface to help marketers understand their consumers in a culturally diverse environment.
The FREEmium Edition GIS will offer users valuable consumer insights – such as socio-demographic, economic and spending data – at no cost. Information within the GIS is fueled by a number of resources such as Geoscape's proprietary geo-demographic segmentation database called American Marketscape DataStream™ and its demand data resource called Consumer Spending Dynamix™. The information within the system is updated frequently to provide marketers with the most current, cutting-edge research and actionable insights.
"America is becoming an increasingly diverse nation, which requires advertisers to ask themselves: Who is our most strategic target market? How can we best reach them? And how can we ensure that the messages we create are consistent with their experiences? The FREEmium Edition GIS puts the answers to these questions at your fingertips and best of all, it's completely free," says César M Melgoza, Founder & CEO of Geoscape.
A number of corporations have looked to the GIS for accurate consumer data to fuel their business models such as recently awarded 'Multicultural Agency of the Decade' GlobalHue, Univision Communications Inc., Wal-Mart, Farmers Insurance Group, Nestle and many others. "The Geoscape Intelligence System allows us to derive credible intelligence on a plentitude of socio-demographic parameters and is particularly valuable in providing guidance in multicultural marketing," says Jeremy O'Brien, Director of Research and Marketing, North America of Kinetic Worldwide.
With the FREEmium Edition GIS, advertisers have the ability to zoom in on all 50 states plus DC and Nielsen's Designated Market Areas (DMAs) – further detail down to ZIP code and block group is available as an upgrade, as are several other data resources which can be used on a pay-by-use basis. Hundreds of companies now use this information to evaluate the strategic value, cultural sensitivity and relevancy of messages to specific demographics; decipher where and how to effectively communicate messages; and analyze how to maximize advertising spend. Beginning today, this one-year subscription will be available to qualified subscribers absolutely free. To register for the FREEmium Edition GIS, please visit http://gis.geoscape.com/freemium.
About Geoscape
Geoscape serves its clients by providing business strategy, analytics, research, databases and automated intelligence systems. The online Geoscape Intelligence System (GIS), the DirecTarget database enrichment system and a variety of geo-demographic, consumer, business and media databases enable actionable insights that lead our clients to gain significant business advantages. Geoscape is a privately held company owned by Goldman Sachs, Inc. and César M Melgoza, Founder & CEO, and is headquartered in Miami.
Press Contact:
Jenna Stone or Alaina Smith at 1-888-211-9353; http://www.geoscape.com
###