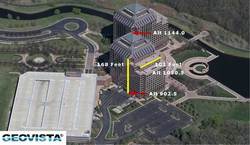 Method and Apparatus for Collecting and Processing Visual and Spatial Position Information from a Moving Platform.
Minneapolis (PRWEB) March 26, 2008
GEOSPAN Corporation announced today that it has filed a patent infringement and declaratory judgment lawsuit against Pictometry International Corporation of Rochester, NY. The lawsuit, filed in the United States District Court for the District of Minnesota, alleges that Pictometry has infringed and is continuing to infringe GEOSPAN's U.S. Patent No. 5,633,946, which issued in 1997 and is entitled, "Method and Apparatus for Collecting and Processing Visual and Spatial Position Information from a Moving Platform."
In its Complaint, GEOSPAN asks the court to award monetary damages for Pictometry's past infringement and an injunction to prevent any infringing activity going forward. The lawsuit also seeks a declaratory judgment that Pictometry's U.S. Patent No. 5,247,356 is not infringed by GEOSPAN and that one or more claims of Pictometry's patent are invalid.
GEOSPAN's GEOVISTA® Multi-Angle Imaging™ technology, pioneered by the company in the early 1990's, is used for collecting direct georeferenced imagery and a survey technique now known as Direct Image Photogrammetric Measurement using multiple "Any Aspect" cameras.
Embodiments of this technology are described in GEOSPAN's U.S. Patent No. 5,633,946 and in patents in Australia, Canada, and Europe.
Direct Image Photogrammetric Measurement uses advanced georeferenced (e.g., orientation and GPS-enabled) camera technology for image surveying. Rapid, close-range surveys can be implemented with multiple, high-resolution cameras to obtain both detail and accuracy without the need for ground control. Image position and orientation data can be captured in real time when images are captured.
Hence, a database of these survey-ready images can be accessed at the desktop where any object can be measured, and its 3D real-world position can be accurately reported and inventoried. The capability to efficiently capture, view, and measure massive amounts of visual information from the air and ground has become a critical capability for local government and national visual map search companies. This capability has also become an integral component of real estate buying and selling and future navigation applications.
For further information please visit http://www.geospan.com or call Ted Lachinski at 1-800-GEOSPAN (1-800-436-7726).
GEOSPAN® is the provider of spatially accurate GEOVISTA® Multi-Angle Imagery™ and GEOVISTA® 3D Spatial Imagery™ products. GEOSPAN's patented technology offers fully integrated high-resolution 360º oblique aerial and street-level GEOVISTA® imagery. GEOVISTA® panoramic imagery solutions support a variety of state and local government GIS applications including E9-1-1, emergency management, homeland security, law enforcement, planning, property assessing, infrastructure inventory, pavement analysis, and transportation. GEOVISTA® solutions also serve a variety of private sector markets including real estate buying and selling, visual mapping, insurance, mortgage lending and micro marketing.
Contact:
Ted Lachinski, President
GEOSPAN Corporation
1-800-436-7726
http://www.geospan.com
###