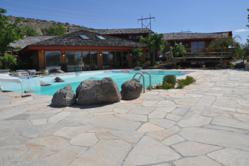 The springs provide a really unique source of heat for the ranch.
Coeur d'Alene, Idaho (PRWEB) May 14, 2013
Realty Auction Services, LLC announced the White Arrow Ranch for sale by auction. The ranch and property includes a 7,000 square foot ranch house, 1 bedroom, 1 bath guest house that is surrounded by a moat, plus a 3 bedroom, 1 bath caretaker's house, all surrounded by miles of natural beauty, with free geothermal heating and a pool, will go to the highest bidder. This, and much more, will be sold, as White Arrow Ranch, a recreational property located in Bliss Valley, Idaho is auctioned off by Realty Auction Services, LLC on Thursday, May 16, 2013.
Sitting on 155 acres, this ranch house boasts plenty of room for families and friends of all sizes, with seven bedrooms, each with an adjoining bathroom. The master suite is located in its own separate wing of the ground floor, while high-end touches, like the use of geothermal heated Oakley stone floors and patio's are used throughout the first floor of the home and includes a massive lava rock fireplace. The ranch's kitchen was designed for heavy use, with a walk-in refrigerator, two ovens and a large pantry. This grand home also features cathedral ceilings, large amounts of storage space and a room-wide wet bar located in the sun room.
In addition to the ranch house, the highest bidder wins a 25-percent share of the geothermal mineral springs. This incredible natural feature elevates the entire value of the ranch by actually heating the rooms (and stone floors) of the house. This low-cost energy supply makes home-heating concerns a thing of the past, saving thousands of dollars each year.
"The springs provide a really unique source of heat for the ranch," said Randy A. Wells, Realty Auction Services, LLC. "With the ranch house being around 7,000 square feet, the owner won't have to worry about paying a small fortune to keep it warm and cozy."
The naturally odorless, mineral-rich water of the springs also serves to fill the home's pool and hot tub. The sky-blue water is soft and doesn't have the negative effects of an ordinary pool or hot tub. And because the spring water emerges at 157-degrees, the pool can be enjoyed all four seasons of the year. The pool can also be enjoyed by all ages, featuring a shallow end for the little ones and a deep end for making use of the pool's slide. An Oakley stone deck surrounds the entire pool area, and the pool house features a storage room that could be used as a changing room, as well as an entertainment room.
Aside from relaxing in the great room or splashing around the pool, there's an abundance of activities to partake in on the ranch's land. From hunting to mountain biking to rock-climbing, the ranch combines the perfect amount of rest with recreation.
Whether you're looking for a new, upscale permanent residence or a lavish vacation home, White Arrow Ranch could be just what you've been waiting for. For more information, please visit Realty Auction Services.
About Realty Auction Services
Realty Auction Services "NationWide", a MarkNet Alliance Company has specialized in real estate auctions since 1997 and has conducted real estate auctions for many individuals, attorneys and mortgage companies. In addition, Realty Auction Services has also worked with seller owners in association with: Keller Williams, Coldwell Banker, Windermere, Prudential, GMAC, ReMax, Century 21, United Country, Exit Realty, Interstate Brokers, LLC and Idaho Country Properties.
Contact:
Randy Wells
Realty Auction Services, LLC
208-699-7474