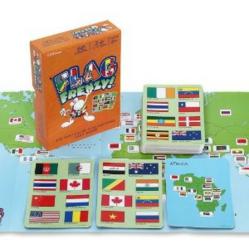 "Children are natural learners, and I envisioned Geotoys to be a gateway for kids to develop an interest in other countries, dream about travel and aspire to make the world a better place." - Bob Galinsky, CTO (Chief Toy Officer)
(PRWEB) July 01, 2012
When Bob Galinsky decided to leave his secure senior- level Fortune 500 marketing job for the risky business of launching a toy empire, his motivation was simple. Galinsky was taking his young son to Europe and wanted to prep for the trip in a fun way. But there were no geographically accurate map puzzles on the market. So with his background in product development and international business, he set out to create a line of educational products designed to make learning world geography not only fun for kids, but relevant for the whole family. The complete line of award-winning Geotoys products will be on display at the New York International Gift Fair in New York City Aug. 19-22.
Geotoys 2012 product releases include:

Puzzle Pouch USA: A fun, educational jigsaw puzzle in a soft portable pouch for on-the-go fun. Puzzle Pouch USA is based on Geotoys' USA/Canada GeoPuzzle-- a great introduction to geography for young ones. Each 36-piece puzzle includes a print-out to help kids put the puzzles together, at home or on the road.
Flag Frenzy: A fast-paced card game where players race to match flags from 57 countries around the world. Each of the 49 flag cards feature eight flags, and every set of two cards has exactly one flag in common. Players must find the matching flag, play the card, and then match the next one. Eight continent cards add to the fun, as players can match a flag to the appropriate continents. (58 total cards with rules, 2-6 players, ages 6 and up)
"I wanted to find a way to teach my kids about the world. And it seemed logical to make the puzzle pieces accurate representations of countries in all regions of the world. Frankly, I was surprised toys like this didn't exist," Galinsky explained. "I made it my mission to use my own love of travel as a way to build a foundation for kids to understand the world through Geotoys. As a social entrepreneur I believe explicitly in the idea that quality educational toys have the power to light a spark in a child's imagination. Children are natural learners, and I envisioned Geotoys to be a gateway for kids to develop an interest in other countries, dream about travel and aspire to make the world a better place."
Launched only six years ago, Geotoys has already established itself as a force in geography-inspired toys and has earned impressive benchmarks including:
Winner of top awards from Dr. Toy "Smart Toy," NAPPA (National Association of Parenting Publications), Creative Child Magazine, and Fat Brain Toy of the Year
Geotoys puzzles and games are available at major retail stores including Barnes & Noble, Hobby Lobby, Costco (July 2012), Toys R Us (Aug. 2012) as well as thousands of independent retailers and websites.
The popular Geotoys World Geopuzzle is routinely ranked at the top of Amazon.com's puzzle category.
GeoPuzzles are available for Europe, Asia, Africa, Latin America, US/Canada, and the World. Animals Geopuzzles feature animals from around the world.
Geotoys has expanded its product offerings by including board games (GeoDice, GeoBingo) and card games (GeoCards, Flag Frenzy!)
For more information about Geotoys, visit http://www.geotoystore.com. For more information about the New York International Gift Fair, visit http://www.nyigf.com. To schedule an interview with Mr. Galinsky, please contact Jennifer Robenalt at 512.653.9656 or jennifer(at)robinhillmedia(dot)com.
-30-