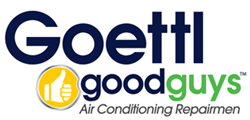 Phoenix, Arizona (PRWEB) April 14, 2015
Suffering through scorching temperatures is more than uncomfortable -- it may also take its toll on your health by increasing the risk of heat-related illnesses. The pros at Goettl Good Guys Air Conditioning often see severe breakdowns during the hottest days of the summer because of a lack of AC care and maintenance by the homeowner.
Some air conditioning problems might seem insignificant, making them easier to ignore, but Goettl Good Guys Air Conditioning warns against this. By calling for service immediately a problem arises, you will help prevent inconvenient and more expensive repairs.
If you notice any of the following, immediately call Goettl Good Guys Air Conditioning:
1. Less air flow from the registers
2. Abnormal noises coming from the AC unit
3. The air conditioner cycles on and off more frequently than before
4. The breaker for the air conditioner in the electrical panel keeps tripping
5. Ice appears on your air conditioner or piping, either in the home or outside
6. Outdoor air conditioner fan won't turn on
7. Odors coming from the ductwork when the air conditioner is on
About Goettl Good Guys
Goettl Good Guys Air Conditioning is an HVAC services company offering exceptional air conditioning and heating services in the Phoenix metropolitan area. Goettl offers the highest quality AC and heating equipment and provides a full range of maintenance, repair and replacement services.
From a well-maintained heating system and efficient duct system, to an indoor air quality system, Goettl Good Guys Air Conditioning completely services all of your HVAC needs. Goettl Good Guys Air Conditioning offers customers guarantees on all repairs, 24/7 emergency services and complete 26-Point system evaluation with every air conditioning call. For more information, visit http://www.goettl.com.