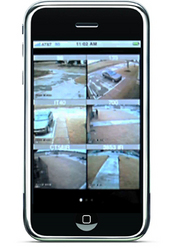 "Now I can monitor my security cameras from anywhere!"
Dallas, Texas (PRWEB) February 3, 2010
Monitoring your GeoVision security camera system remotely from your iPhone is now more than just a hopeful wish. ApexCCTV recently announced their support for GeoVision's new GV-iView iPhone application on compatible CCTV equipment. This new step in remote surveillance allows users to connect to GeoVision digital video recorders (DVRs) with a few simple setting adjustments.
Functions of the GV-iView iPhone application include live viewing of up to six cameras on the screen, with multiple "flickable" screens, remote playback and multiple DVR connections. The software is simple and responsive, allowing for effective monitoring on the go. Due to equipment demands, GV-iView is currently only compatible with GeoVision version 8.3 and above software.
For busy professionals, this new remote viewing option will allow security camera monitoring while stuck in traffic, on the job site, or at the beach. With ApexCCTV's support, users can ensure proper compatibility and functionality between their iPhone and GeoVision DVRs, making monitoring from afar a worry-free experience. Users can now have an additional level of comfort knowing that their personal property is in the palm of their hand, wherever they go.
About ApexCCTV:
ApexCCTV is a leading supplier of quality security cameras and surveillance equipment. Based out of Dallas, TX, the company believes strongly in providing the best sales service, support and pricing in the industry. They also support the physical security industry by providing training videos, unbiased reviews and informative articles to the public, in an attempt to bring the industry closer to the public. Learn more at http://www.apexcctv.com.
About GeoVision:
GeoVision offers a diverse line of industry-leading physical security products, a world-class research and development team and excellent support. They are among the top manufacturers of surveillance equipment, constantly advancing in the field of analog and IP security technology. Learn more at http://www.usavisionsys.com.
Contact:
ApexCCTV
800.997.8460
info(at)apexcctv(dot)com
GeoVision (USA)
949.583.1519
sales(at)usavisionsys(dot)com
###