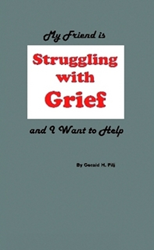 "Most people have no idea what a grieving person is going through," Pilj says. "This book will give you a glimpse into the grieving mind so you can provide valuable support."
OKALHOMA CITY, Okla. (PRWEB) March 24, 2015
When author Gerald H. Pilj lost his 3-year-old son, he relied on his friends and family for support, but not everyone knew how to talk about the subject or offer their support.
In his new book, "My Friend is Struggling with Grief and I Want to Help" (published by Lulu), Pilj reaches out to readers who know someone dealing with grief and offers advice for helping and supporting those grieving friends and family members – no matter what type of grief they are dealing with.
"Most people have no idea what a grieving person is going through," Pilj says. "This book will give you a glimpse into the grieving mind so you can provide valuable support."
Concise and practical, "My Friend is Struggling with Grief and I Want to Help" dissects the grieving process and helps readers better understand it. Pilj includes his own insights into the process and presents easy-to-implement suggestions for supporting and comforting grieving people.
Through his book, Pilj hopes to help readers who have never experienced grief to understand it more completely.
An excerpt from "My Friend is Struggling with Grief and I Want to Help":
"You've heard about things in the news, but how often does grief touch us directly? Not very often. As such, most of us really don't know how to cope with it and have no idea how to help somebody else who is going through it."
"My Friend is Struggling with Grief and I Want to Help"
By Gerald H. Pilj
Softcover | 4.25 x 6.87 in | 70 pages | ISBN 9781483425467
E-Book | 70 pages | ISBN 9781483425450
About the Author
Gerald H. Pilj spent 14 years in the Marine Corps. He earned a master's degree in physics with a special emphasis on teaching. He works as a software engineer in the aviation industry. He currently lives near Oklahoma City.
Lulu empowers people of all ages to explore and express their interests, passions and expertise through books, photography and art. Since introducing self-publishing in 2002, Lulu has empowered creators in more than 225 countries and territories to produce nearly two million publications. Lulu Jr. allows children to become published authors, encouraging creativity, strengthening literacy and building self-esteem. Picture.com offers professional photography of collegiate and professional sports, memorable and historic events, fine art and home décor. For more information, please visit lulu.com.