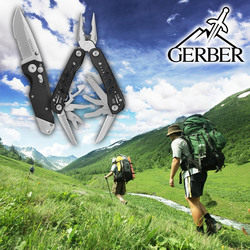 (PRWEB) March 7, 2011
The Gerber Bear Grylls range with their distinctive 'BG' logo are part of a growing suite of products supplied with guides covering protection, rescue, water and food to allow adventurers to have the best chance of avoiding or surviving uncomfortable or even life-threatening situations.
The Gerber Bear Grylls Folding Sheath Knife is typical of the range, with its attention to quality materials and practical design details.
And as with the whole Gerber Bear Grylls range, it is supplied complete with the Priorities of Survival Guide to help people avoid or survive what Grylls calls "a spot of bother".
Gerber Knives were the first Gerber range and established the brand name's legendary reputation for craftsmanship and attention to detail.
Gerber outdoor knives fall into four general categories: fixed blade, clip folding, single blade and folding sheath. Within each category, there is then a range of models to help all customers find exactly the right knife for their needs and many models have versions that sit within different categories.
Typically used for hunting or camping, Gerber fixed blade knives do not fold, which makes them extremely strong and secure.
There fixed blade knives are manufactured with full or with partial tangs fitting into the handles and all are made using high-carbon stainless steel.
The handles themselves are made from a variety of materials including wood, genuine stag horn or Gerber's own patented softgrip technology.
Typical models that show off Gerber's quality are the Gerber Profile Knife with stubby drop point and gut hook titanium-coated blade versions and the Metolius Fine Edge with its larger chunky blade incorporating a serrated top edge among its clever design details.
Gerber clip folder knives are general-purpose knives but offer a wide range of styles including some very exciting designs. The Gerber Paraframe I semi-serrated edge knife may look revolutionary but still boasts a good working blade, secure lock and a strong handle.
Small folding single-blade knives fit comfortably in the pocket, typically have no pocket clip and usually have a fine edge as opposed to a serrated blade.
A good example is the Gerber L.S.T. Fine Edge Pocket Knife with Peter Gerber instrumental in developing this knife's lightweight synthetic handle. That handle also features Gerber glass-filled nylon construction with tactile texturing.
When working on large, messy jobs, the larger folding sheath knives come into their own.
Usually carried in a sheath on a belt or in a pack and versatile in design, you can find a sheath folder for almost every situation: utility, hunting, everyday use and more.
The Gerber Metolius Two Blade Folding Sheath Knife shows off Gerber's expertise in technical hunting knives with its drop point blade and the new E-Z Open skinning blade.
Gerber sheaths are made using high-quality ballistic nylon or leather and have convenient Velcro closures.
###