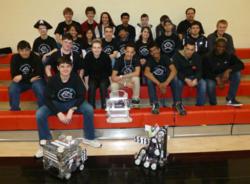 We all stand to learn much from the youthful enthusiasm of these students.
Tolland, CT (PRWEB) March 22, 2012
Students from the Greater Hartford Academy of Math and Science (GHAMAS) visited Gerber Scientific headquarters today to demonstrate the results of their six months of design, engineering and product testing labors while preparing for the FIRST® Robotics Competition. For the past three years, Gerber has supported the team through monetary donations and the volunteer time of a mentor engineer.
The FIRST Robotics Competition is an annual event that challenges high-school students, working alongside professional mentors, to design and engineer a robot. Students build and program their own robots and compete on local, national and world levels to experience the excitement of science, engineering, technology and innovation.
Tom Jakowenko, a senior software engineer and 25-year veteran of Gerber Technology, worked with the 30-member Pirates of the Pythagorean team on everything from industrial design to motion controls. Jakowenko said, "We all stand to learn much from the youthful enthusiasm of these students. They understand that camaraderie and knowledge sharing is critical to the overall success of the team. There are no territories and no egos – only a burning desire to help one another, to be ultra-creative, and to win."
Teams advance from local qualifying tournaments to state championship tournaments, before moving on to the World Championship Tournament, held each year in St. Louis, Mo. On March 3, the GHAMAS team faced off against more than 200 high school students from 24 schools at the Connecticut Conquest FIRST Tech Challenge State Championship Tournament, held in West Hartford, earning a spot in the semifinals.
This year's challenge, "Bowled Over!" involves two alliances of robots – composed of two teams each – that compete in each match. The robots score points by placing racquetballs in crates and then stacking the crates.
FIRST® (For Inspiration and Recognition of Science and Technology) is a not-for-profit organization founded by Dean Kamen to inspire young people's interest and participation in science and technology. Kamen is the inventor of the Segway® Personal Transporter, a self-balancing, zero-emissions personal transportation vehicle.
Kevin Williams, vice president of Research and Development at Gerber said, "Gerber is proud to support the development of the young people in our local communities through engineering mentoring programs like this, but it is the individual who makes all the difference. Tom devotes much of his personal time to this program, particularly as he and the team prepare for competition." Gerber is also one of six local companies that supports the GHAMAS team through monetary donations.
Two years ago, a member of the robotics team was killed in a bus accident en route to the team's first kickoff event for the FIRST Robotics Competition. Following the tragedy, members of the team went before the state legislature to advocate for a bill that would require seat belts in school buses. Six months later, a law was passed offering financial incentives to towns that install lap and shoulder seat belts in school buses.
About Gerber Technology
Gerber Technology is comprised of four businesses that serve distinct market segments. These include the Sewn Products Solutions business which provides textile cutting and spreading systems to apparel and flexible materials manufacturers in all regions of the world; the Global Software Solutions business which offers the world's leading product lifecycle management (PLM), product data management (PDM) and CAD automation solutions for the retail, footwear and apparel businesses; the Composites and Automation Solutions group which serves aerospace, fabrication and construction markets with ply cutting, laser templating and laser metrology solutions; and Gerber Innovations, North America's only full-line manufacturer of automated cutting hardware for the packaging industry. In all markets, Gerber's solutions significantly improve productivity and reduce costs.
Gerber Technology's world headquarters are located in Tolland, Connecticut, U.S.A. with regional offices, agents and distributors serving nearly 25,000 customers in 130 countries. The company designs and manufactures its products in various locations throughout North America, Europe and Asia. For more information about Gerber Technology, visit us on YouTube and LinkedIn.
Established in 1968, Gerber Technology is a business of Gerber Scientific, Inc. (http://www.gerberscientific.com) of Tolland, Connecticut.
###