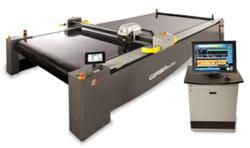 The new Axis software platform enables Gerber to solidify its position as a total solutions provider, in fact, redefining the value of the GERBERcutter system.
Tolland, CT / Shanghai, China (PRWEB) September 06, 2011
In September, during the China Composites Expo 2011 in Shanghai, China, Gerber Technology will introduce the GERBERcutter® Z1, the company's next generation computer-controlled, single-ply cutting system designed to cut a wide range of challenging composite materials. Also on display will be the Virtek® LaserEdge™ system for three-dimensional laser templating and ply positioning and the GERBERconnect™ remote diagnostic system proven to enhance the productivity of Gerber systems.
At the heart of the new GERBERcutter Z1 is state-of-the-art Axis™ software, a Windows®-based system that is easy to use and delivers significant productivity enhancements. These include comprehensive reports that help users analyze total cut time, idle time, jobs completed, material utilization and more; a job queuing function that enables simultaneous loading of all jobs to be cut during an entire shift or day's work; and job recovery functionality that initiates cutting at the precise point the job was interrupted.
Gerber President Marc Giles said, "The new Axis software platform enables Gerber to solidify its position as a total solutions provider, in fact, redefining the value of the GERBERcutter system. No longer is it merely a device to cut material but, instead, is an integral part of the user's entire workflow. It accommodates an extensive portfolio of tools that automate non-value-added tasks and improve efficiencies up and down our customers' manufacturing value streams."
The GERBERcutter Z1 is built upon a new distributed control system, the foundation upon which many powerful options like inkjet-printed part identification can be added. By distributing the intelligence away from the main controller, the system is more modular and flexible, installation is simplified, processing power is significantly improved and system uptime is maximized.
With GERBERconnect software resident on a customer's cutting system, Gerber Service personnel are able to diagnose systems remotely when necessary, and, for matters that require a Gerber technician to be on site, issues can be resolved swiftly because the technician has the information needed to thoroughly troubleshoot the issue beforehand. Because customers experience higher system uptime, satisfaction improves.
Hal Osthus, president of Gerber's Composites and Automations Solutions business, said, "Gerber is proud to serve the world's largest public aerospace companies and to have contributed to the manufacture of parts for the Boeing 787, Bombardier C-series, Learjet 85 and Airbus A350 programs. Based on customer acceptance testing, I am confident that the GERBERcutter Z1 system will be a welcome addition to our proven suite of automation solutions for composites nesting, cutting, kitting, layup and measurement."
Visitors to the show will also witness the Virtek LaserEdge system in action. Virtek LaserEdge is an easy to use three-dimensional laser templating and positioning system that eliminates the need for physical templates, reduces costly rejects and shortens set-up time. It accurately projects a virtual laser template onto molds and parts to guide operators through the layup process of composite part fabrication. Whether it be ply layup, paint masking, harness assembly or component location, by eliminating the use of physical templates, productivity improves by as much as 50 percent. In addition, the system helps eliminate costly human errors that may occur when using physical templates.
China Composites Expo 2011 will take place Sept. 7-9 in Shanghai, China. Gerber will occupy stand B838 in hall 1.
About Gerber Technology
Gerber Technology (http://www.gerbertechnology.com) is comprised of four businesses that serve distinct market segments. These include the Composites and Automation Solutions group which serves aerospace, fabrication and construction markets with ply cutting, laser templating and laser metrology solutions; the Global Software Solutions business which offers the world's leading product lifecycle management (PLM), product data management (PDM) and CAD automation solutions for the retail, footwear and apparel businesses; the Sewn Products Solutions business which provides textile cutting and spreading systems to apparel and flexible materials manufacturers in all regions of the world; and Gerber Innovations, North America's only full-line manufacturer of automated cutting hardware for the packaging industry. In all markets, Gerber's solutions significantly improve productivity and reduce costs.
Gerber Technology's world headquarters are located in Tolland, Connecticut, U.S.A. with regional offices, agents and distributors serving nearly 23,000 customers in 129 countries. The company designs and manufactures its products in various locations throughout North America, Europe and Asia. For more information about Gerber Technology, visit us on YouTube and LinkedIn.
Established in 1968, Gerber Technology is a business of Gerber Scientific, Inc. (http://www.gerberscientific.com) of Tolland, Connecticut.
# # #