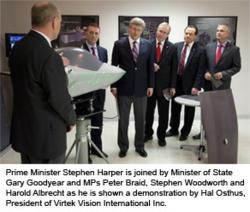 "The laser templating technology that we have seen here today is quite remarkable. It's an incredible capability for Canada to possess." - Canadian Prime Minister Stephen Harper
Waterloo, Ontario, Canada (Vocus/PRWEB) March 14, 2011
Virtek Vision International, a business unit of Gerber Technology, hosted Canadian Prime Minister Stephen Harper last Friday. Harper is visiting Canadian companies involved in the U.S. government's F-35 Joint Strike Fighter program to highlight the benefits of the program to Canada's workforce.
During the visit, Harper witnessed first-hand how Virtek's 3-D laser templating technology helps aerospace workers accurately place parts cut from composite materials into molds used to form aircraft parts. He addressed Virtek employees saying, "The laser templating technology that we have seen here today is quite remarkable. It's an incredible capability for Canada to possess."
Virtek employs 68 individuals. In the last 12 months, the company has sold laser systems to JSF-participating companies in all countries partnering in the program and attributes about one-quarter of the company's aerospace revenues directly to the program.
"The individuals employed by Virtek are proud of what they accomplish every day," said Hal Osthus, president of the company. "Prime Minister Harper's visit is a reminder of how their efforts affect not only Canada's economy but the economies of many other nations as well." Last year, Virtek exported 93 percent of its product revenues outside Canada.
In 2001, Lockheed Martin was awarded a $19 billion contract to develop the next-generation fighter, the F-35, an affordable, stealthy and supersonic all-weather strike fighter designed to replace a wide range of aging fighter aircraft. While Lockheed Martin is the prime contractor, Northrop Grumman and BAE Systems are principal partners in the project.
Nine nations are partnering in the F-35's System Development and Demonstration (SDD) phase: the United States, United Kingdom, Italy, the Netherlands, Turkey, Canada, Denmark, Norway and Australia. During SDD, the team will build a total of 22 test aircraft. Fourteen will undergo flight-testing, seven will be used for non-airborne test activities, and one will be used to evaluate the F-35's radar.
The Prime Minister's visit follows the Nov. 22 visit to Virtek of Canada's Minister of State Gary Goodyear.
Virtek provides tools used in three distinct markets, aerospace carbon fiber composite part assembly, pre-manufactured housing component assembly (i.e., roof trusses), and metrology used primarily in sheet metal part manufacturing. Of these, aerospace is the largest market. Virtek serves the world's 10 largest public aerospace companies and has contributed to the manufacture of parts for the Boeing 787, Bombardier C-series, Learjet 85 and Airbus A350 programs.
Gerber Technology is a business unit of Gerber Scientific, Inc. (NYSE: GRB).
About Gerber Technology
Gerber Technology (http://www.gerbertechnology.com) is comprised of four businesses that serve distinct market segments. These include the Composites and Automation Solutions group which serves aerospace, fabrication and construction markets with ply cutting, laser templating and laser metrology solutions; the Global Software Solutions business which offers the world's leading product lifecycle management (PLM), product data management (PDM) and CAD automation solutions for the retail, footwear and apparel businesses; the Sewn Products Solutions business which provides textile cutting and spreading systems to apparel and flexible materials manufacturers in all regions of the world; and Gerber Innovations, North America's only full-line manufacturer of automated cutting hardware for the packaging industry. In all markets, Gerber's solutions significantly improve productivity and reduce costs.
Gerber Technology's world headquarters are located in Tolland, Connecticut, U.S.A. with regional offices, agents and distributors in 129 countries serving nearly 23,000 customers. The company designs and manufactures its products in various locations throughout North America, Europe and Asia. For more information about Gerber Technology, visit us on Twitter, YouTube and LinkedIn.
Established in 1968, Gerber Technology is one of three business units of $458 million Gerber Scientific, Inc. (http://www.gerberscientific.com) of Tolland, Connecticut. Gerber Scientific is listed on the New York Stock Exchange under the "GRB" symbol.
###