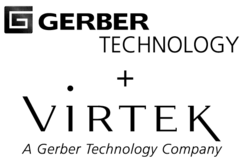 We are proud of our legacy of innovation and our service to the aerospace industry
Tolland, CT (PRWEB) December 19, 2011
Virtek Vision International, Inc. of Waterloo, Canada, a business of Gerber Technology, is celebrating its 25-year anniversary. Today, the company serves the world's 10 largest public aerospace companies1, providing laser templating solutions to automate the assembly of carbon fiber composite parts. It also offers inspection systems that accelerate first article and in-process quality checks, primarily for sheet metal fabricators.
Hal Osthus, president of Virtek, said, "We are proud of our legacy of innovation and our service to the aerospace industry. Virtek's products, including the Virtek LaserEdge® laser templating system, have been used to build carbon fiber composite parts for virtually all aerospace programs that use composite technology. And our Virtek LaserQC®, which inspects parts in seconds, has become the benchmark for speed and accuracy. Virtek currently holds 33 patents on the use of lasers for part assembly and quality control processes.
Virtek was founded in 1986 to commercialize technology developed at the Pattern Analysis and Machine Intelligence Laboratory at the University of Waterloo, in Waterloo, Ontario, Canada. In 1996, driven by market opportunity, Virtek shifted its focus from the development of vision technologies to the development of precision laser systems. In 1997, the company acquired the rights to a patent belonging to Boeing that applied laser projection technology to the composite ply layup process. Since then, Virtek's products have helped aerospace manufacturers eliminate the need for cumbersome physical templates, reduce costly rejects and save set-up time.
Gerber Technology acquired Virtek in 2008. The combination of Virtek's laser products with Gerber Technology's product portfolio offers manufacturers a complete suite of automation solutions to address nesting, cutting, cut part identification and kitting as well as projected ply lay-up and quality inspection.
Virtek employs nearly 70 individuals, 65 percent of which have an engineering or technical background.
1Compiled by Pricewaterhouse Coopers. Published in Flight International magazine's Sept. 14-20, 2010 issue.
About Gerber Technology
Gerber Technology (gerbertechnology.com) is comprised of four businesses that serve distinct market segments. These include the Composites and Automation Solutions group which serves aerospace, fabrication and construction markets with ply cutting, laser templating and laser metrology solutions; the Global Software Solutions business which offers the world's leading product lifecycle management (PLM), product data management (PDM) and CAD automation solutions for the retail, footwear and apparel businesses; the Sewn Products Solutions business which provides textile cutting and spreading systems to apparel and flexible materials manufacturers in all regions of the world; and Gerber Innovations, North America's only full-line manufacturer of automated cutting hardware for the packaging industry. In all markets, Gerber's solutions significantly improve productivity and reduce costs.
Gerber Technology's world headquarters are located in Tolland, Connecticut, U.S.A. with regional offices, agents and distributors serving nearly 25,000 customers in 129 countries. The company designs and manufactures its products in various locations throughout North America, Europe and Asia. For more information about Gerber Technology, visit us on YouTube and LinkedIn.
Established in 1968, Gerber Technology is a business of Gerber Scientific, Inc. (gerberscientific.com/) of Tolland, Connecticut.
###