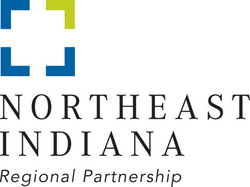 Because of the interest we have seen in these industries, the Partnership is proactively seeking out foreign direct investment opportunities
Fort Wayne, Ind. (Vocus) September 16, 2009
Northeast Indiana Regional Partnership (NEIRP) announced today that it will be sending a representative to Germany on a trade mission promoting the region and building relationships with European companies. Regional Partnership's Dale Buuck will depart on September 22, 2009 and will travel throughout Germany until October 2, 2009.
Buuck will attend the 2009 Motek trade show, the 2009 Renexpo trade fair for renewable energy and energy efficient building and renovation and the 2009 FachPack trade show. This trade show schedule will anchor Dale's itinerary, taking him from Stuttgart, to Augsburg, then on to Nuremberg, with individual company meetings scheduled between each trade show throughout the country.
Efforts during the trade mission will focus on introducing German businesses to Indiana, with the two largest economic development regional groups in the State serving as ambassadors: the Indy Partnership and the Northeast Indiana Regional Partnership. The Northeast Indiana Regional Partnership has experienced firsthand an increasing interest from European companies in the Midwestern United States—specifically in the wind energy supply chain and more generally in the advanced manufacturing sector. Increased communication with interested European companies guided the development and planning of the 2009 Germany trade mission.
"Because of the interest we have seen in these industries, the Partnership is proactively seeking out foreign direct investment opportunities," said Buuck, Project Manager for NEIRP. "This trade mission will provide opportunities to forge ahead in building relationships with companies that will benefit from the talent and resources northeast Indiana has to offer."
The Northeast Indiana Regional Partnership will utilize live updates to the Partnership's blog and Twitter feed, posted throughout the trip. Readers will be able to access recaps of the activity in Germany through the blog, Northeast Indiana Pulse, and can follow @NortheastIN on Twitter. Northeast Indiana Pulse can be found at http://chooseneindiana.blogspot.com and the Partnership's Twitter feed can be found at http://twitter.com/NortheastIN.
This will be the second European trade mission and the fifth international trade mission that the Northeast Indiana Regional Partnership has participated in. President and CEO John Sampson is currently traveling with Governor Daniel's trade mission delegation in Asia. Sampson also participated in the 2007 trade missions to Japan and Europe, led by Governor Mitch Daniels.
About the Northeast Indiana Regional Partnership: Created in 2006, the Northeast Indiana Regional Partnership's mission is to market the 10-county region and team with local economic development organizations (LEDOs) to bring new jobs and commercial investment to the area. The Partnership concluded a successful Investment campaign in October of 2006 targeting an initial operating period of five years. The RP's global marketing efforts will be on behalf of LEDO's in Adams, Allen, DeKalb, Huntington, LaGrange, Noble, Steuben, Wabash, Wells and Whitley counties.
# # #