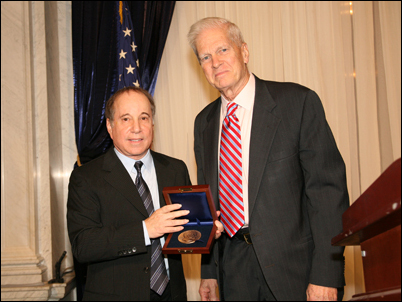 The Library has been collecting Paul Simon's music for more than 50 years, from the song 'The Girl For Me' by Simon and Garfunkel that was submitted for copyright in 1956 to his most recent album 'Surprise.' His 'Graceland' album was recently named to the National Recording Registry
Washington, DC (Vocus) May 23, 2007
The Library of Congress will receive the works-in-progress manuscript in which Paul Simon worked out the lyrics for his song "Graceland," Librarian of Congress James H. Billington announced upon awarding the Gershwin Prize for Popular Song to Simon during a dinner on May 22 in the Great Hall of the Library's Thomas Jefferson Building.
"The Library has been collecting Paul Simon's music for more than 50 years, from the song 'The Girl For Me' by Simon and Garfunkel that was submitted for copyright in 1956 to his most recent album 'Surprise.' His 'Graceland' album was recently named to the National Recording Registry," said Billington. "This record of his creativity, tracing his progress from simple notes to phrases, will not only be a welcome addition to our collections but will also serve as an inspiration to the American people the Library serves."
These song notes will join such musical treasures as the original manuscripts from European masters such as Bach, Mozart, Beethoven and Brahms, as well as those of American masters like John Philip Sousa, George and Ira Gershwin, Aaron Copland and Leonard Bernstein.
The Gershwin Prize celebration continues with an all-star gala concert Wednesday, May 23 at 8 p.m. at the Warner Theatre. The cast is a veritable who's who in the music industry, featuring Yolanda Adams, Marc Anthony, Shawn Colvin, the Dixie Hummingbirds, Jerry Douglas, Art Garfunkel, Philip Glass, Alison Krauss, Ladysmith Black Mambazo, Lyle Lovett, Stephen Marley, James Taylor, Stevie Wonder and Buckwheat Zydeco. Presenters are former poet laureate Billy Collins, Bob Costas, Charles Grodin and Lorne Michaels.
"We appreciate Paul Simon's act of generosity and know it will inspire future prize winners and their contributions to America's storehouse of creativity and knowledge," added Billington.
The event will be broadcast in high definition on Wednesday, June 27 at 9 p.m. EDT on PBS stations nationwide (check local listings).
ABOUT GERSHWIN PRIZE
One of the goals of establishing the Gershwin Prize for Popular Song is to highlight the musical treasures in the Library and to encourage students, teachers, scholars and researchers to use this free public resource. The music collections encompass virtually all musical genres--classical, jazz, folk, gospel, blues, rock, country and hip-hop. Of utmost importance to the study of popular song genres is the Library's vast collection of traditional music, including the repertories of early bluesmen such as Robert Johnson and Muddy Waters, and field recordings of diverse folk music traditions found in the Library's American Folklife Center. Find out more at http://www.loc.gov/about/awards/gershwin/
###