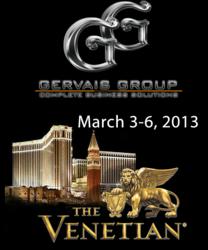 After a great experience at the August PrimeTime! Show in Washington D.C. in August 2012, we are extremely excited to participate with National Marketing Group again next March in Las Vegas
Las Vegas, NV (PRWEB) January 17, 2013
The Gervais Group, a leading provider of internet marketing and reputation management services, is pleased to announce its attendance and participation with Nationwide Marketing Group at their "Prime Time" show scheduled for March 3 – 6, 2013 in Las Vegas. The PrimeTime! Show is the largest of its kind for independent dealers specializing in appliances, furniture, electronics, specialty electronics, custom installation, as well as rent to own programs.
The Gervais Group, founded in 2001, is an industry leader in providing company-specific internet marketing and reputation management solutions for businesses ranging in size from sole proprietorships to conglomerates. Customized strategies executed by the Gervais Group are typically multi-faceted and can include search engine optimization/marketing, website design, content creation/distribution, social media participation and other tactics tailored to deliver the best results possible for each specific situation.
PrimeTime! is held two times each year at various locations around the country and is attended by thousands of business owners, vendors, and dealers for the purposes of business education, deal making, and networking.Nationwide Marketing Group has over 3,000 members with revenues totaling $12 billion on an annual basis.
Said Jason Gervais of the Gervais Group, "After a great experience at the August PrimeTime! Show in Washington D.C. in August 2012, we are extremely excited to participate with National Marketing Group again next March in Las Vegas". The Gervais Group recently entered a partnership with National Marketing Group to provide internet marketing, branding and reputation management services to members of the organization.
###
The Gervais Group, located in Atlanta, Ga., specializes in delivering internet marketing, brand building, and reputation management solutions to businesses of all sizes across the full spectrum of industry. For more information, visit Gervais Group
Press release distributed by Gervais Group. See original press release at https://www.gervaisgroupllc.com/newsroom.html