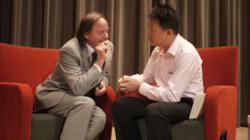 The goal of business, and of ancient Tibetan wisdom, and in fact of all human endeavor, is to enrich ourselves - to achieve prosperity, both outer and inner. ~ Geshe Michael Roach, The Diamond Cutter Book
Singapore (PRWEB) November 05, 2011
More than 800 people from seven different countries attended the recent business seminars in Singapore and three day retreat held by Geshe Michael Roach and organized by Diamond Wisdom Pte Ltd.
Geshe Michael Roach, a Buddhist monk who spent 25 years in a Tibetan Buddhist monastery, is the first westerner in 600 years to gain a Geshe qualification (the Buddhist equivalent to a Doctorate in Philosophy). After his graduation and at the behest of his teacher, Geshe Michael co-founded Andin International, a New York diamond company which was recently bought by Warren Buffet's Richline Group.
Using 2,500 year-old Buddhist principals, Geshe Michael helped grow Andin International from a $50,000 loan and five employees to a company with annual sales of $250 million. He has subsequently written two best-selling business books, The Diamond Cutter and Karmic Management, which give details and step-by-step instruction on how to build success in any business or personal venture.
These and further business insights were shared by Geshe Michael at the recent business seminar held in Singapore on October 11th and 12th 2011. The evenings mixed lectures from Geshe Michael on how to harness the natural laws of prosperity with explanatory and humorous real-life sketches given by his students.
During the breaks, audience members were given unique access to Geshe Michael. Ng Ling Sen, an audience member, really appreciated the time allocated. "It gave us the chance to ask Geshe Michael and his teachers our personal questions – it really helped!" Eileen Louange from Singapore Health Promotion Board, enthused about the event, "I found Geshe Michael's talk very enriching. The sessions had a profound effect which made me join the retreat on the weekend because I wanted to learn more."
On the following weekend, 140 people attended a private business retreat with Geshe Michael in Desaru, Malaysia. These three days business seminar wove further talks on achieving business success with guided meditations and yoga classes. The accompanying teachers, who are long-time students of The Diamond Cutter Institute, ran small group discussions, giving more intimate guidance on business and personal issues.
Philip Chang, CEO, UT Technologies Pte Ltd attended the business retreat and spoke for many saying how he liked, "the entire organisation, the arrangement and the way it was conducted."
Overall Geshe Michael Roach's second visit to Singapore in 2011 was a success. A growing number of people in Singapore now meet weekly to discuss and support each other with The Diamond Cutter concepts. The main organiser of the recent events, Roy Phay, felt it was a blessing, "that so many people listened to Geshe Michael through the week and I believe it has created a ripple effect for thousands more to join events in 2012 and years to come."
For more information on Geshe Michael Roach's Singapore business seminar, please visit http://www.DiamondWisdom.sg
For more information on The Diamond Cutter Institute and Geshe Michael Roach global travel schedules, please visit http://www.DiamondCutterInstitute.com
###